SIMO – A LEGEND IN THE MAKING
|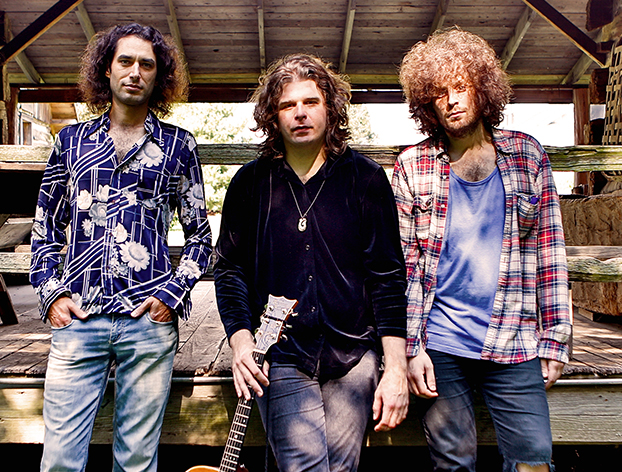 EVERY DECADE OR SO, JUST WHEN IT SEEMS AS IF THE BLUES-MUSIC GENRE IS ABOUT TO BE DEPOSITED into the dustbins of a bygone era, one or two artists arise to kick-start yet another rewarding renaissance of this most important of American art forms and extend its lifespan. JD Simo, with his exhaustive knowledge of blues history and its proponents and his fiery fretwork, is the messiah of the moment. JD and his namesake band's most recently released album, Let Love Show The Way, sounds as if it could have been recorded at any point in the last five decades, at the same time summoning an intense energy that clearly points towards the future of this music.
Over the span of two interview sessions, the first with all three members of Simo (JD Simo on guitar and vocals, bassist Elad Shapiro and drummer Adam Abrashoff), the second with JD on his own, Red Hot Rock Magazine delved deeply into the passionate inspiration the history of the blues has provided to fuel the creation of vital new music, the unavoidable nature of the magic and hypnotic hold of The Allman Brothers Band and the hunger to keep on pushing forward to create a body of work that will provide future generations with even more of a reason to pick up a guitar and change people's lives. 
RED HOT ROCK MAGAZINE: Hey, guys. How are you doing? We are loving Let Love Show The Way at Red Hot Rock Magazine headquarters. Just a great album from beginning to end and even more impressive because it was only the three of you that recorded it.
JD SIMO: Thank you.
ADAM ABRASHOFF: Thanks, man.
ELAD SHAPIRO: Thank you.
RHRM: Very polite gentlemen, as well. Ha ha ha. I find this so interesting, being such a huge fan of The Allman Brothers Band. A big chunk of this newest Simo album was recorded at The Big House Museum in Macon, Georgia, the Allmans' old stomping grounds. They actually lived in that building. How did this all come about? Because I believe that you were the first artist to ever record at The Big House.
ADAM: I think we were.
JD: We were. That made me nervous. The reason being, I just thought it would be a fun thing to do, you know, to record some bonus tracks in a location that wasn't just, "Hey, we just went in and did these." I thought it would be fun. And so, there were a couple of locations. But The Big House was one of 'em. And I've got some really good friends that run the place and also people from the entourage back in the day and all of that kind of stuff that have become good friends. So, it just worked out. But they told me that first day we started working that we were the first. And that made me really uncomfortable because in the selling of this record, as it were, it's been kind of… And I understand, because it's interesting. I think it's interesting. But there's a fine line with that and there's a line where I don't want to, you know, that's not the reason to do something. And so, moving forward, I'm a little wiser about things like that.
RHRM: And you had the privilege of playing Duane Allman's guitar for these sessions, the same guitar with which he not only recorded with the Allman Brothers, but also with Eric Clapton for the Derek And The Dominos sessions. Were you expecting to be playing that piece of music history while recording your album?
JD: I did, only because I had played it a whole bunch of times. The owner is a good buddy of mine. And it resides there. So, prior to us going down there, he said I was welcome to use it. And I'm not gonna sit here and try and bullshit you. I mean, it was, it was fun. For me, it was gettin' to play dress-up like a little kid or something. I'm playing my hero's guitar in his old living room. It was really fun. It was really fun in, like, a childlike way. Our influences are vastly fanning out. I think they were, at one time, a bit more narrow and now they've gotten pretty damn wide. But that original band was a big influence on the three of us.
RHRM: The word is that you guys are already gearing up for a follow-up album.
JD: We already started working on it.
Adam: Yeah. Yeah. We already have a bunch of demos recorded. Yeah.
RHRM: Are you going back to The Big House?
JD: No.
Adam: No.
JD: This one's gonna be the opposite in every way. We're making it over a long period of time. We're making it in Nashville. We're making it with some producers that are close with us. With me, one of them goes back about ten years. It's gonna be quite different from the last one.
RHRM: In what way? Musically or sonically?
JD: You know, it's probably a little too soon to say. From the way it's looking right now, it's gonna be pretty different all of the way around. In a good way. I think it's actually… We've grown. Two hundred shows will do it to ya. You either burn out or you become better. And the band that we were in January, we are not that band any more. It's a very different band. That's what nonstop playing and pushing yourself to try and improve will do. From a writing perspective. From a… whatever. I don't know. What do you think, guys?
Elad: Yeah.
Adam: Yeah. I agree. Sonically, you know what I mean. Just… Growth. Evolution. Whatever you want to call it.
RHRM: JD and Adam have been playing together for quite some time. Elad, how long have you been in the band?
Elad: About a year. A little over a year now. I think it was in May or June. A year and a couple of months. Something like that.
RHRM: Is that one of the reasons you think the sound of the band has changed?
---
To read the rest of this feature, please order a copy of Red Hot Rock #75 at our online shop.