CHRISTONE "KINGFISH" INGRAM – OLD SOUL, FUTURE LEGEND
|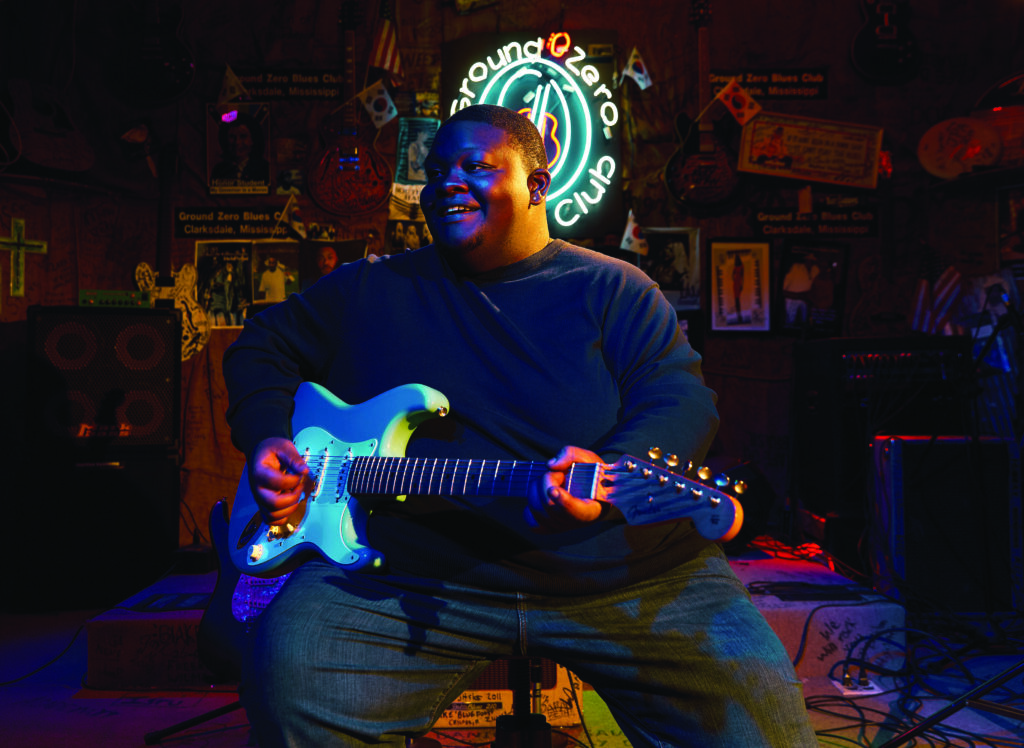 CLARKSDALE, MISSISSIPPI. GROUND ZERO FOR THE BLUES HAS PRODUCED YET ANOTHER LEGEND-IN-THE-MAKING, DELTA GUITARIST AND VOCALIST CHRISTONE "KINGFISH" INGRAM. Red Hot Rock Magazine took advantage of the opportunity to converse with the young and impressive prodigy early on in what promises to be an exciting and fruitful career.
The following interview took place after the release of Kingfish's debut album and just before COVID affected most artists' plans for the then-near future. Kingfish has since recorded and released his Grammy-winning second album for Alligator Records named 662.
RED HOT ROCK MAGAZINE: How are you doing, sir?
KINGFISH: Hey! What's going on, man. How are you doing?
RHRM: Pretty good. How's everything with you?
KINGFISH: Everything's all good.
RHRM: Sorry if I got you up too early. Ha ha.
KINGFISH: Ha ha. Nah. It's all fine.
RHRM: Your record is impressive. And of course, you have been doing many shows since. But I think I first saw you many years ago when we were visiting Clarksdale (Mississippi) playing as a little kid with Bill "Howl-N-Madd" Perry, but I am not completely sure. Ha ha. It might have been you.
KINGFISH: Ohhh. That probably was me. Ha ha ha.
RHRM: So, right off the bat, before I begin enthusing about how much I love your music and what you are doing with it, I need to ask you what you would like me to call you – Christone, Chris, Kingfish or simply King?
KINGFISH: Either one is cool. Sometimes people shorten it and call me King or call me Chris. Either one is cool.
RHRM: Because the way things are going, you may very well be recognized one day down the road as the reigning king of the blues.
KINGFISH: Ohhhh. Ahhhhhhh. I think that BB (King) will always have that title. But hopefully, one day, I'll be in the same ranking, you know. Ha ha.
RHRM: I think that Buddy Guy holds the title right now. I hope that he is going to be around for a lot longer.
KINGFISH: Oh, yeah. Oh, yeah.
RHRM: You are being touted as the future and/or savior of the blues by many, including some legends. What does that do to the head of a guy your age?
KINGFISH: Ohhh. I really appreciate it. But I try to not think about it 'cause I try to keep my mind on the shows and what not. I always say that it could be gone tomorrow, so I try to not make too much of a big deal out of it. But it's cool.
RHRM: Besides your fantastic guitar playing, the thing I cannot get over is the depth and beautiful resonance of your singing voice at your young age. You have talked about being an old soul and having been here before. It certainly sounds as if your voice is channeling some of that.
KINGFISH: Thank you. Thank you. Singing has been something I was interested in first of all before I started playing. There was a time that my voice was not very good because it was kind of high-pitched. But now, it's changed.
RHRM: If anybody put on your record and didn't realize at first that you were only twenty years old when the album was released, they would be shocked to find that out after hearing your voice. You sound like a man well beyond your years. And your guitar playing. Man! I have watched you wailing away online in clips from a few years ago. How old were you when you first picked up a guitar and started singing?
KINGFISH: All of it came together when I was, like, twelve or thirteen. I had been playing bass before that and I wanted to switch to guitar. And one day in class, my teacher asked me if I wanted to sing a song. It was "Every Day I Have The Blues". From that point on, I became one of the singers in the class. He just started teaching us how to put everything together. That's how singing came into it.
RHRM: I was watching a video that I believe Fender placed online of you performing Screamin' Jay Hawkins' "I Put A Spell On You". I have always loved that song. So many artists have played it over the years. But you knocked me out with your version. A guy your age has no business being able to express yourself with that amount of depth. Incredible stuff.
KINGFISH: I really appreciate it. That version was unrehearsed. That was what we had sent to everybody so that they can learn it. I kind of like that version better a little bit than the one we did for Luke Cage. It's a great tune. It's one of my favorites.
RHRM: Yeah. That's a really soulful version, the slower one. It's very nice performed like that. The way you not only play your own tunes, but how you tackle pieces made famous by legends such as BB King with your take on "The Thrill Is Gone" is astounding. Your guitar already seems as if it is part of your body, not to mention the richness of your voice. Now, I mentioned Bill "Howl-N-Madd" Perry earlier. Bill was one of your teachers and mentors at the Delta Blues Museum in Clarksdale, a man that I interviewed many years ago and a great blues artist in his own right. Bill gave you your nickname, Kingfish, and you thank him in the liner notes of your first album. Is there anything that you would like to say about Mr. Perry and his contribution to the arts at home, as well as to your career?
KINGFISH: Mr. Perry has done a lot for my career. He was one of the first ones, I would say, to give me a spot on the big stage. He was one of the first ones to give me the opportunity to come in on his shows and sit in and stuff like that. So, he has been a tremendous help, you know, giving me advice and stuff when I first came out.
RHRM: And a really nice guy, too.
KINGFISH: Oh, yeah. Most definitely. Most definitely. I love his stories, you know.
RHRM: It's also great to see shoutouts in your liner notes to places we have visited and enjoyed in your hometown, Clarksdale, places such as the Shack Up Inn, Ground Zero Blues Club and Red's Lounge. There is so much blues history, American music history, from that town. Any lover of American music is doing him or herself a disservice not visiting that part of the country. What do you think it is about that town that continues to spawn great musicians at your level of talent and what was it like for you growing up in Clarksdale? It's not the big, bustling city that it was in the early-to-mid twentieth century.
To read the rest of this feature, please order a copy of Red Hot Rock #78 at our online shop.