ROBERT RANDOLPH – SACRED STEEL WARRIOR
|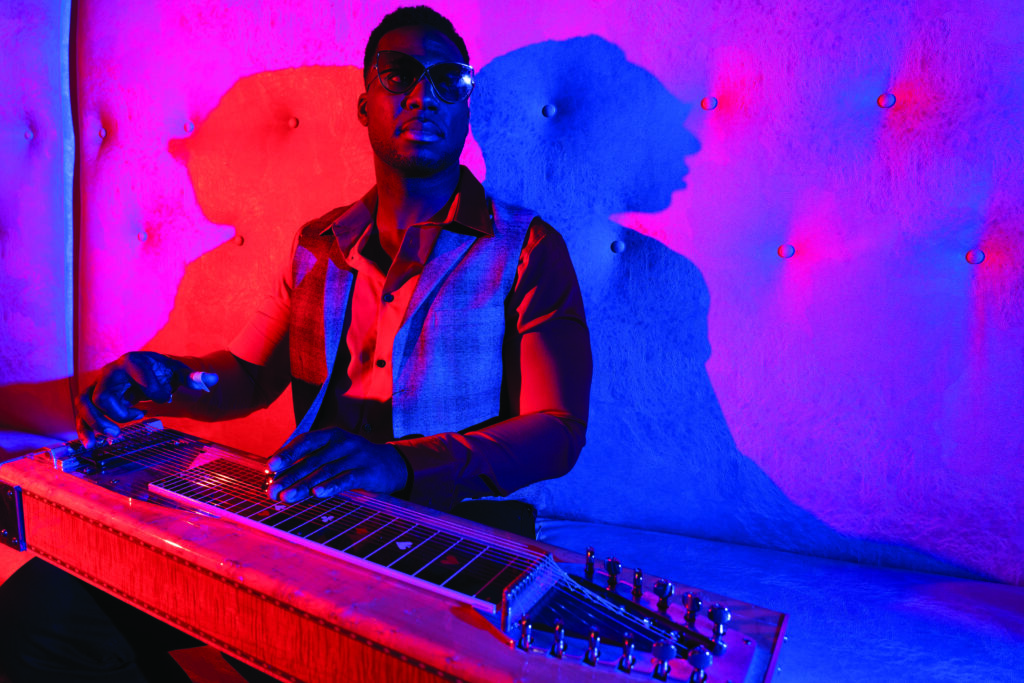 SACRED STEEL MASTER ROBERT RANDOLPH, together with The Family Band, has created yet another slab of spiritually joyful, soulful blues and rock'n'roll. Brighter Days is Robert's latest and, arguably, greatest collection of music. Catching up with Robert once again while on the road, Red Hot Rock Magazine was brought up to speed on the goings-on of one of today's premier prodigies.
RED HOT ROCK MAGAZINE: Hello!
ROBERT RANDOLPH: Hey, man. How's it doing?
RHRM: OK. It's been a few years since we last spoke. We ran that big two-part feature.
RR: Yeah. I remember that.
RHRM: Right off the bat, I need to say that your new album, Brighter Days… What a great record! I believe it is your best so far, my absolute favorite music that you have recorded. And that's saying a lot considering how much I loved what has come before.
RR: Oh, man. Thank you so very much. I appreciate it.
RHRM: You are every welcome. It's great stuff. In addition to the rump shakers at which you and your band excel, there is quite a bit of slower, incredibly soulful stuff on the record.
RR: Thanks. Yeah we really wanted to, with all of the different tempos, just kind of hone in on, you know, spirituality, being uplifting as much as we can, get a positive message, making people just, you know, trying to figure how we can all better ourselves together. And so many of these songs… Many times I kind of set out to do that making music. But sometimes when you work with different producers and songwriters, sometimes you never really get on the same page. On this record, Dave Cobb, the producer, also grew up in the Pentecostal Church. He's a great music historian, a young guy. So it was a great combination workin' with him. Because we would write these songs and we would kind of go back to how they relate to me growing up in church and him growing up in church and just how to build them, how to make 'em want to dance, move and so forth. So we were able to get all of the different elements together. We were able to include the choir singing on a few of them. It was really awesome.
RHRM: Brighter Days is being heralded as something akin to a return to your roots in the church. To my ears, you never have strayed too far.
RR: Yeah. No, exactly. It was just with this one, I kinda wanted to write really great songs and then have these songs that really remind people of the church, you know. I have songs like "Have Mercy" and "Baptise Me" with these titles. So people can sort of really kind of get familiar with what we were doing and set out to do. Because many times, people get afraid of spirituality. And there's this old saying where, you know, you go to the club on Saturday and then right to the church on Sunday. And it's just like, there's nothing wrong with looking at yourself and praying and really accepting the fact that you… The purpose of going to church is to kind of realize the mistakes that you made. 'Cause we're all making mistakes daily. It's the point of really not to wallow in misery. No matter what religion you're into, the G-d that sits above is here with us and he walks the life with us. It's really to do that. So musically, for me, with the different musical styles that I grew up with in church, and Dave Cobb himself, we were able to get these songs and get these messages out there without it being this sorta… We wanted it to be very upbeat and very positive and really… sounds good, great vocals, great singing, great lyrics. And we really just set out to kinda do that, really write good songs and really have this sound that's good, too.
RHRM: Anyone that has seen you perform the way that I have knows that there is an incredible amount of joy in what you are doing and the way you ride your steel guitar. There is so much happiness in the music and that comes across. Watching you perform, there is no way to interpret that in any way as involving any element of misery.
RR: Ha ha ha ha! Nah, man. That's really the joy of it all.
RHRM: Brighter Days is comprised mostly of great original material, but the cover of The Staple Singers' "Simple Man" is wonderful. It is a fantastically soulful, bluesy gospel slice of Robert Randolph music. You really have gone beyond doing justice to a song from a legendary artist.
RR: Oh, man. Thank you, man. Thank you. We really… I mean, I've always been a fan of Pops Staples and The Staple Singers. 'Cause we share a similar comin' out of the church, having a family band and then having these songs… you know, Staple Singers were able to write songs that very much became music, rock'n'roll, soul music anthems for all of eternity. That's kind of like the vision that I have. So, I kind of want to be on the same career path as those guys. Coming from church, having all of these inspirational songs, but being cool at it. And having these household anthems, really, forever. Those songs are never going away that they wrote. So, it was great for me to be able to kind of hone in and work on that. And kind of accept that. Because also, there's been this acceptance of understanding where I fit in in the music business. You know, it's great that I have the family band and we're these guys that uplift people and make people feel good. Accepting that role. That's what really makes me feel good. So, I'm happy about being that kind of guy.
RHRM: I don't remember. Have you and Mavis Staples ever worked together? It feels as if the two of you would be a perfect match musically.
RR: Not on any recordings, but we've played together live a few times, these sort of magical moments live playing behind her. It's been a treat, you know. I mean, she's such an icon. She's a great woman. So, we've had the chance to play many shows with her, actually, festivals and things. It's been really fun.
RHRM: Mavis is such a sweet lady. I conducted a wonderful interview with her some years back. Now, speaking of rump shakers, "Don't Fight It" definitely qualifies as one of those on your new album. I doubt that anyone was sitting still while you recorded that one. And I don't think that your audiences can keep themselves from moving when you play that.
RR: Oh, yeah, yeah. "Don't Fight It". Yeah. That's one we really wanted to be kind of this roller-coaster ride, you know, this music, this roller-coaster ride, all these different slogans and things about life being this roller coaster. But also, this kind of Pentecostal journey of how things happen in church. You get one tempo that it speeds up and it slows down. Then it takes off into another thing. So that's what it's about, you know.
RHRM: You mentioned the Saturday night/Sunday morning thing earlier. "Don't Fight It" is a brilliant song because it distills the whole Saturday night/Sunday morning, blues/gospel dichotomy into one little tune. The holy ghost power in the first part suddenly turns into something a lot more carnal.
RR: Yeah. You know, that was really the… We just wanted people to kind of feel good about that. And I was happy that we kind of set out with that goal and to feel the sort of power and the spirituality of it. But also, it's kind of quirky in a way. But that's what's cool about it.
To read the rest of this feature, please order a copy of Red Hot Rock #78 at our online shop.