BOBBY RUSH – WAT THA FUNK!?!
|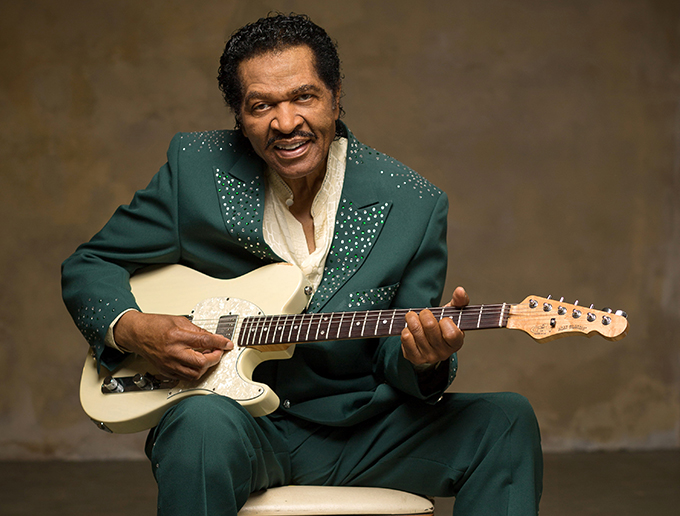 TRULY LEGENDARY BLUESMAN, KING OF THE CHITLIN' CIRCUIT, 2017 BEST TRADITIONAL BLUES GRAMMY-WINNING SINGER, GUITARIST AND HARP BLOWER SUPREME EMMET ELLIS, JR., BETTER KNOWN AS BOBBY RUSH, reached a career peak with his most recent studio album, Porcupine Meat. In addition to that juicy selection of soulful and funky blues cuts, Bobby's four-disc career retrospective, Chicken Heads, serves to remind long-time blues lovers and educate newer fans about the often-mischievous delights of this forever fun and funky musician. It is often said that the secret to eternal youth is keeping in touch with one's inner child. At eighty-five years of age, Bobby Rush continues that discussion successfully.
Red Hot Rock Magazine has had the opportunity at various times during the years to speak to this gracious and humble but confident gentleman, always generous with his time, always energetic and engaged with the conversation, always appearing to genuinely enjoy the time spent chatting. What follows is a brand new and fresh, in-depth interview that would most likely still be in motion if we didn't all need nourishment.
RED HOT ROCK MAGAZINE: Hello, Bobby Rush!
BOBBY RUSH: Hey, man! How you doing?
RHRM: Very good. It's an honor speaking to you again, sir.
BR: Well, thank you.
RHRM: You are very welcome. I have such good memories of speaking to you many years ago at the North Mississippi Hill Country Picnic and then again in Clarksdale. You were one of the absolute kindest gentlemen and easiest to speak to that I have ever interviewed.
BR: Well, we just hope we did somethin' to make you feel good.
RHRM: Ha ha. Yes, you did. We had a nice, long talk.
BR: It's been a long time since I talked to you, man. It was about twelve years ago, I think it was.
RHRM: Yeah, something like that. The years go by so quickly. Anyhow, I know that you prefer being called by your entire stage name, Bobby Rush, not just Bobby or Mr. Rush. Why is that?
BR: Nobody call me Bobby and nobody call me Rush. It's Bobby Rush. You know, Bobby is such a common name. Everybody name Bobby. Everybody, whether Bobby, Jimmy or Smith. You know, just a common name. So, when people just say Bobby, you may be talkin' about Bobby Womack, Bobby Bland or whoever. But if you say Bobby Rush, you know, there's a whole lotta Rushes, a whole lotta Bobbys, but there ain't but one Bobby Rush.
RHRM: Your dad was a preacher. Because you were given his name and out of respect for him so that he would not be associated with you when you were singing the blues, you changed your name. There is a very funny story you sometimes tell of the first time your dad was going to show you a little bit about singing and playing the guitar. Would you mind relating that story to our readers? There were some decidedly non-gospel lyrics involved.
BR: Yeahhhh. My daddy was one of the first peoples who influenced me to sing the blues. And he was a preacher and a pastor of a church. Now, my daddy never told me to sing the blues. But he never told me not to. My cousin gave me a guitar. And I hid it in the loft 'cause I thought my daddy wouldn't want me to have the guitar because I wanted to play the blues. I didn't know at the time that you could play gospel or spirited things on the guitar. All I know is you pick up a guitar and it's blues. And that's all I wanted to do. So, I changed my name to Bobby Rush because I'm Emmet Ellis, Jr., in respect to my dad. But one day, after I had the guitar for two or three weeks, it got hot in the barn, the old barn where we put the horses and mules and cows. And he said, "Boy, bring me that guitar here." I brought it to him and I thought he was going to throw it away or give me a whoopin' for having it. But he said, "Let me tune it up." And I didn't know my daddy could play. He tuned the old guitar up and he said, "Let me sing a song to you I used to sing to a little girl when I was a little older than you." Well, I thought he was gonna sing about my momma either "Glory glory, hallelujah. When I laid my burden down, I'm here." Christian song. Words of a gospel song. But he didn't sing either one of those. He started to sing a little song, he said, "Me and my gal, went to chinquapin huntin'. She fell down and I saw somethin'." And man, when he said he saw somethin', I could visualize a lady falling down and he could look under her dress. That's all I could think of, you know? And I said, "Daddy…" I asked him to sing it again. I couldn't ask him what he saw. That's what I wanted to ask him. But being a kid, I respected my dad. So I said, "Dad, sing it again." The reason I asked him to sing it again 'cause I thought the next verse would explain to me what he saw. So he said, "Me and my gal went to chinquapin huntin'. She fell down and I saw somethin'." My mother was in the kitchen cookin'. She said, "Ahhcchhh." Like that. Cleared her voice up, her throat up, meaning don't sing that kind of song to that boy. But he didn't pay my mother any attention. He kept singin'. I was in the front of my dad. I could see my mother's face. He had his back to my mother. He couldn't see her face. So, she was comin' to him. I said, "Daddy, how big was she?" He said, "Oh, boy. She was fat, about three hundred fifty pounds." Well, in my mind, now I know it was a fat woman that fell down. I said, "What she had on?" He said, "Nothin' but a dress." Now, in my little mind, a fat lady falling down, nothin' on but a dress. I said, "Wow!" I could imagine in my little mind what he saw, a fat lady fallin' down with nothing on but a dress. That mean no underclothes on, what have you. I said, "Sing it again, daddy." He went to sing it again and my mother was walkin' behind him. And I was whisperin' to my dad, real low voice, "Daddy, daddy, here come Momma. Here come Momma." He didn't hear me or maybe he didn't even care, one way or the other. He said, "Me and my gal went to chinquapin huntin'. She fell down…" And about that time, he looked back at my mother. He said, "And I kept runnin'." Hehe hehe hehe hehe. And that's all I ever knew. "She fell down and I kept runnin'." Now, I don't know what he saw. He never told me what he saw. But I could imagine in my mind as I did, especially as I grew older, I imagine he really saw something. A lady falling down, with nothin' on but a dress, no underclothes and she weigh three hundred fifty pounds. In my little mind, that's a lot to see. Heh heh heh. I laugh so much about that. Heh heh heh. That's a lot to see, man. But anyway, from that time to this time, if you listen at my songs, you can hear all the funny kind of things in my songs. Like "Chicken Heads", "Garbage Man", "Do The Do".
RHRM: I was going to mention that that story, because it never really came to an end, seems to have stayed with you over the years. So many of your songs have gone down that path. You definitely love your fat women. You like them to have some meat on their bones. It is a recurring theme in your tunes.
BR: Ha ha ha! Well, I'll tell you now since we talking. I said I wasn't going to love no fat woman anymore, but I lied. I'm telling you now. I just flat lied about that.
RHRM: Ha ha!
BR: Heh heh heh! I said I wasn't going to mess with a fat woman no more, but I lied about that. I'm sorry about that. Yeah.
RHRM: So, can we expect a new Bobby Rush album anytime soon?
BR: I just got through with a new CD that'll be out, probably in about two or three month, called A Dog Named Bo. And it talks about when I was in Louisiana, I met this woman down there. And she went and told her daddy she wanted to marry me. And the look on her Daddy's face really was a sight to see. He said, "Get out of here widya and don't you come back no more." Other words, he wanted someone to marry his daughter who had a real job, not a blues singer. A blues singer to a father or a mother, it's not a real job, you know? And then I talked about, we sneaked down to get married and the judge said, "Do you solemnly swear to take this woman for your lawfully wife, not a one-night love affair?" Before I could open my mouth to say, "I do", guess who walked through the door. Her dad, mom, big brother John and the dog named Bo, saying, "Get outta here widya and don't you come back no more." And I went on to tell the story about how blues singers and just singers, entertainers, have a hard time sometime convincing mother-in-laws about their daughter. Because to be a blues singer don't have a real job, you know? And I can relate to it. But, anyway, I wrote this song about that. So, that'll be coming out in a few months. That's what I'm doin' now and that's what I did.
RHRM: Your last studio album, Porcupine Meat, was a great one, probably one of your best, and you finally won a Grammy for it after so many years of receiving other accolades. You have covered a lot of ground over the years. Musically, what direction are you going with this new record?
BR: Well, pretty much the same what I did with Porcupine Meat, but I'm just extending it to another level, hopefully. Because I'm one of the few guys who have the Chitlin' Circuit audience, which is a black audience, but I also now have a lot of white fans and Hispanic and what have you. And so, I'm walkin' a tight line here where I have three or four hats on top of my head. It's not like a lot of other guys just have one audience. I have really two and a third audience. I have a gospel side, have the blues side and the black side and the white side. It's all good because I've been doing this kind of thing all of my life. When I recorded back in '64, fifty years ago, "Chicken Heads", '68, and I was thinkin' about those kind of crossover kind of things then. Then when I did "Porcupine Meat", which I had written the song ten years before I put it out… because I thought it wasn't time to do it. Because "Porcupine Meat", it was the kind of thing where I'm talkin' about not eatin' a piece of meat. I'm talkin' about a woman who treated me bad, didn't love me as much as I love her. But yet I couldn't leave her although I know she was doing me wrong. And if you can't leave when someone doing you wrong, that's porcupine meat. It's too fat to eat and too lean to throw away. And "Chicken Heads" was another song I did the same way, "Sue" and the others. And then you come to "Porcupine Meat". Everything I do have those double entendre meanings to it.
RHRM: The porcupine meat one was a good one, especially in the video for the song. You have what looks like a plate of porcupine meat in front of you. And, man, that woman in the video!
BR: Ha ha ha ha ha ha ha! Then you know I wasn't really talkin' about the meat.
To read the rest of this feature, please order a copy of Red Hot Rock #77 at our online shop.