CHRIS SQUIRE – Farewell To A Legend
|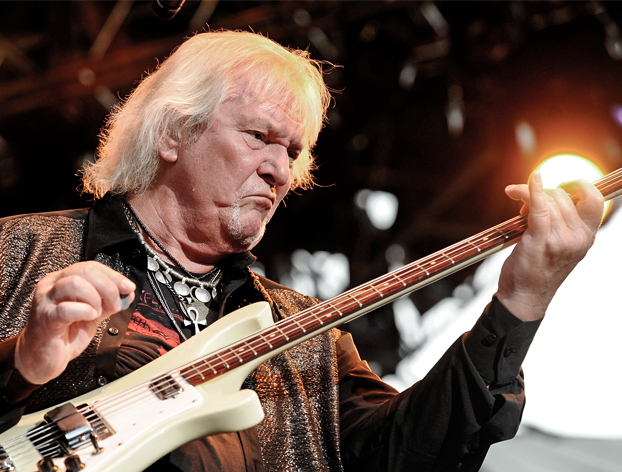 Red Hot Rock has had the honor and pleasure of speaking to Chris Squire over the years at many points in his career. He has always been extremely generous with his time and enthusiastic about discussing all things Yes. From those many conversations, we have decided to treat you with the most recent discussion we had with Chris, around the release of their newest studio effort, Heaven & Earth, as well as an interview going back fourteen years, an interesting period in the band's history. Jon Anderson was still the lead singer of the group and, for the first time, Yes had recorded an album, Magnification, without a full-time keyboardist in their ranks. But first, we take you to July 8, 2014…
---
RED HOT ROCK MAGAZINE: Hello. Is this Mr. Squire?
CHRIS SQUIRE: Speaking. Yeahhhh.
RHRM: Hi, Chris. It is very nice hearing your voice again. It's been a few years now. Being such a longtime Yes fan, it is so rewarding to be receiving two back-to-back albums of such high quality at this stage in the game. There are not that many of your contemporaries who can make that claim. Fly From Here and Heaven & Earth are two different animals completely, but both are quite rewarding for music lovers.
CS: Thank you very much. I appreciate that.
RHRM: Even more incredible is how ambitious the band still is. In addition to an album of all new music, some of which you will be playing on this tour, you will also be performing two classic and complex Yes albums from the 1970s, front to back. You performed Close To The Edge on the last tour, together with The Yes Album and Going For The One. You are keeping Close To The Edge in the set and adding Fragile. It feels from the outside as if the current lineup of the band has really gelled, that you are all getting along very well musically.
CS: Yeah. You could say that. It's always difficult going into a new tour 'cause of different configurations and different time constraints we have on this tour. We have a shorter set, as we have an opening act on this tour with us. And then, ha ha, of course we realized that promising people to play Close To The Edge again and Fragile takes up an hour and a half of the two hours we're allotted. So, you know, we're still working through that situation and trying to find out the best way to play the show.
RHRM: Yes should not have an opening band. You should just get on and play for five hours. I know that would probably kill you, but…ha ha ha.
CS: Well, tell that to the union boss in New York. Ha ha.
RHRM: Is there one band that is opening for you on the entire tour or are there different bands at different stops?
CS: Yeah. Yeah. Maybe not on every show, but we have an English, a young prog rock band called Syd Arthur with us and they'll be opening the show.
RHRM: I noticed that Yes' current vocalist, Jon Davison, contributed to the songwriting of all but one of the new album's compositions. To what extent was he involved? Did he work both on lyrics and music?
CS: Yes. Jon wrote, probably, I am going to say, the lion's share of the lyrics. I did some. That was the plan, actually, so that, because Jon obviously is new in the lineup and he had quite a backlog of ideas that he put together over the years he's been writing. And we all decided it would be best if I worked with Jon on a couple of tracks and Steve (Howe) did and Alan (White) did and Geoff (Downes) did. So, you know, to get the new guy's fresh input into the writing. And that was what we went for and, you know, we're happy the way it turned out.
RHRM: Very nice results with different flavors throughout the album. I guess that has a lot to do with Jon
writing, as you mentioned, with different members of the band on different tracks.
CS: Yeah.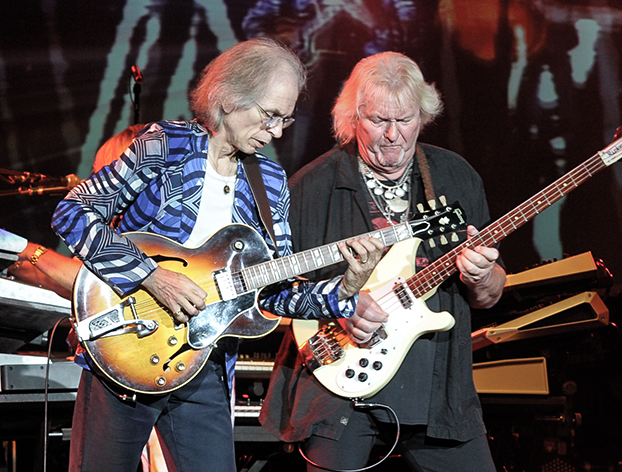 RHRM: Jon Davison's lyrics and vocal delivery have the same ethereal quality and warmth that Jon Anderson always exuded, without being a blatant copy. You seem to have recaptured that.
CS: Ah, yes. Well, you know, I guess I can just say it's definitely in the Yes tradition, the writing and the music and the delivery and the lyrics, as well. So, it's pretty much traditional Yes fodder. So, yeah. So it's worked very well.
RHRM: Chris, I have always loved your very distinctive harmony vocals. They are all over the place on the new album. And you step out even more prominently on "In A World Of Our Own." I know that you have, of course, sang lead vocals on stuff outside of Yes, but it's nice to hear that you are not hiding your vocals on this album.
CS: That's good. I have to thank Billy Sherwood for that. He turned them up during the final mixes and balances. So, you know, I guess, Billy thought I deserved a good showing. So, I have to thank him for that.
RHRM: "The Game" is a great track that you and Jon co-wrote with a third writer. Who is the "Johnson" credited on that track?

---
To read the rest of this feature, please order a copy of Red Hot Rock #72 at our online shop.
---
Photo credits: Jerry & Lois Photo