Paul Rodgers – Bad company To Born Under A Bad Sign
|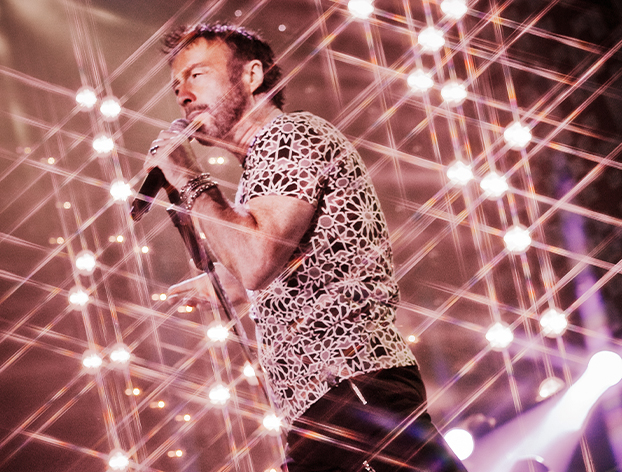 PAUL RODGERS POSSESSES one of the finest and most lauded voices in the history of rock'n'roll music, or any genre of music, for that matter. In spite of releasing an impressive collection of solo albums and fronting numerous classic and iconic bands, from Free to Bad Company to The Firm, The Law and his collaboration with the members of Queen, Paul remains one of the kindest and down-to-earth gentlemen to ever wield a microphone stand. Red Hot Rock Magazine has had the pleasure of speaking with Mr. Rodgers many times through the years and our chats never betray Paul as being anything other than an incisive, passionate and intelligent interview subject. Paul's new album, his love letter to Stax Records and Memphis soul, is entitled The Royal Sessions.
Conversation Conducted February 22, 2014
---
RED HOT ROCK MAGAZINE: Hi, Paul. It's so nice hearing your voice again.
PAUL RODGERS: Hello, Ritchie! How have you been?
RHRM: Great. Thank you. I love Memphis blues and soul and this is an absolutely beautiful album that you have recorded. The Royal Sessions. For you, why these songs, why Memphis and how did you get around to deciding to record this album now, at this point in a career that has been filled with so many high points?
PR: Well, you know, my producer and I, Perry Margouleff, we wanted to make something that was very authentic. And the way to be authentic was to be in Memphis at a really iconic studio with real session musicians who had a fantastic track record of playing with lots of soul and blues people. You know, all these guys in the band, they've played with people like Albert King and Al Green and Isaac Hayes, you know, Rufus and Carla Thomas. They've really got a great track record. So we wanted to put that together with a bunch of songs, really, that I have loved for all of my career. So this is what we did. We put all that together and then we recorded it in analog, so everything is straight to tape. And it made a huge difference to the sound.
RHRM: When I put the album on, the warmth was immediately recognizable to my ears. It jumps out at you and feels like the soul records of the '60s and '70s. And you just can't get that with digital recording.
PR: Well, it's very, very hard. I mean, Adele did a great job. I don't know how they recorded that, but they did get a good sound, a really beautiful vocal sound. And they had great songs and everything. But it's true to say in general, you know…. It is scientifically true that digital comes at you in sharp steps. If you imagine a staircase, that's how it's coming at you. And analog comes at you in waves. That's why you get such a sweet sound. It has so much bass. So much resonance. And so much of all of the frequencies. The human ear immediately knows the difference, no matter what you tell yourself. Ha ha. It's a softer and warmer and more embracing sound.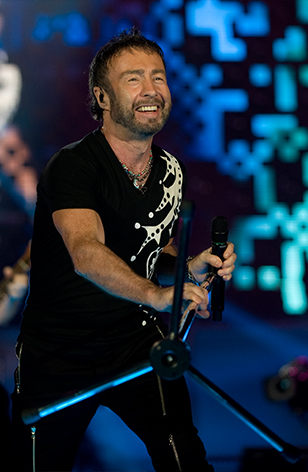 RHRM: You have been talking about this album as your tribute to Stax. Many of the legendary recordings you tackled here are from Stax artists. But even though there are connections between the two, Stax and Royal Studios were two separate entities. It would be great if you would please provide our readers with a little historical perspective. These songs that you have loved since you were a kid, which of the original recordings were done at Stax and which at Royal?
PR: Well, actually, you know, the focus of this album for me was Stax. At one point, we kicked around the idea of calling it Stax. But in the end, because we recorded it at the Royal Studios, we decided we would honor the studio itself where we recorded it. At the moment, Stax itself has been turned into a really cool museum. We spoke to Lisa Allen, who runs the Stax Museum and they are talking about changing the rooms back so they can do some recording. But right now, it is a museum. And it's a very cool museum, but they don't record. So when Perry visited the museum, he was kind of bemoaning the fact that, "Ehhh, I like this, I love this. But it's a shame there are no studios that still exist from the '60s and '70s where all these iconic records were made." And Lisa Allen was right beside him and she said, "Well actually, there is a studio. It's just down the road. It's called the Royal Studios." And just at that moment, as kismet, as the stars aligning would have it, Boo Mitchell walked in. And he runs the Royal Studios right now. So, Lisa introduced Perry to Boo. The offshoot was that they went to Royal Studios and Perry called me from there and said, "You've got to come and see this studio, man. It's unbelievable! It's just like it was in the old days. You know, it's got the authentic atmosphere. It resonates, you know, with soul music. We've got to try and do some recording here." And so I flew down there and we just had a trial and error….a trial, really, a trial period to see if it would work. We did three days and I just loved it so much, I loved the musicians, they're such masters of their craft, that I said, "Let's come back and spend a full week or ten days and record an album. And that's what we did.
RHRM: Of course, the original version of "I Can't Stand The Rain" was recorded there by Ann Peebles and all of the classic Al Green recordings were done there. I spoke to Solomon Burke shortly before he passed away and he was recording there. And newer artists, such as John Mayer and North Mississippi Allstars, as well as a certain gentleman that goes by the name of Robert Plant, have done some work there. So, it is still a working studio. But it is great that you are primarily paying tribute to Stax because, to me, even though I love the Philly Sound and Motown, Stax was the premier home for soul in its infancy, when that whole southern soul thing was being created.
PR: Yeah. Well, you know, my main man was Otis Redding and I loved Sam & Dave and a lot of the Stax artists. The only song that was not released on Stax was Ann Peebles' "I Can't Stand The Rain". And we did that because I discovered while I was in the studio that not only had she recorded the song there, but a lot of the guys working with me were on the session. So I just said, "Wow, we've got to do that." And we did a version of it. And I'm very pleased with it.
RHRM: As you mentioned, many or most of the musicians that back you up on this album go all the way back to the days of the original recordings. Were you treated to any interesting stories from those days, either about the artists or the recording of the songs?
PR: Archie Turner, we call him Hubby. He's on the Wurlitzer. He tells some great stories. Ha ha. He just regaled us all of the time with stories. But we didn't do much talking, actually. We were really focused on the music. And doing the songs. The Reverend Charles Hodges, he plays the Hammond organ. And mostly, we were talking or listening. That was our main focus.
RHRM: These gentlemen had all played together, but this was the first time that they had played with you. How long did it take until you felt that you gelled musically?
PR: Yeah. Well, it took me a very short space of time until I realized that they were a band, you know, although they are session guys and they interplay with other sessions and other musicians. This group of people had a bond that was just magical. And it only took a few moments, really, to realize, 'cause I went in and I said, you know… I was a little bit intimidated, to be honest. Just slightly because, you know, these guys, as I say, are masters of their craft and this is their music. I am sort of intruding on it, in a way. And I wanted it to be as authentic as it could and get as real as I could, so anyway… We kicked off with "That's How Strong My Love Is". After the first couple of bars, we realized that we were speaking the same language. And we got into a groove straight away and just let the thing run from there. It was like that for the entire album. It was a journey of rediscovering these songs together.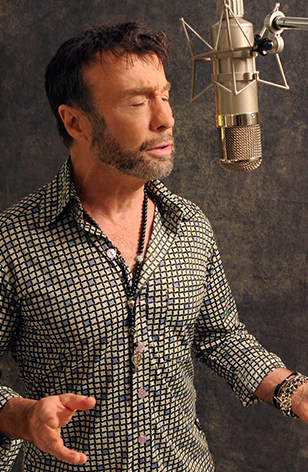 RHRM: I mentioned Solomon Burke earlier. I had the pleasure of meeting with and interviewing Solomon a few times in his later years. What a nice man! And he spoke with such high regard about Willie Mitchell, the head honcho at Royal Studios, who passed away not too long ago. His son, Boo, is running the place now. He seems as if he may have carried the character gene. How did you guys hit it off?
PR: Boo is carrying the torch right now. He has taken over the studio and he's running it. And he is a great character. When Perry and I, well, actually Perry said to him, "If Paul comes down, can we put a great band together? Can we…'cause we don't know the area. Who should we call for drums, for this, for that?" And Boo said simply two words. He said, "Trust me." And so we said, "O Kay". And he really came up for us. He knew exactly who to call and exactly what band to put together. It's a great band. We were playing live in the studio and some of the songs were even one take. "I've Been Loving You Too Long", for instance, was really a one-take wonder. Because we were really just trying the song. We spoke about it and we decided the key and this, that and the other. So I said, "OK. Let's just try one." And I went into it, we went off and we just went on this…this story opened up when we played. We finished and everyone went, "Phew. It's a pity we didn't record that." And then, Perry presses the button in the control room. And he says, "Oh, we recorded it." So, we said, "Let's listen". And we listened to it. And I said, you know, "We don't have to do that again. That is recorded right there." And it was our very own version, you know. So, a lot of magic like that occurred. And I want to say one thing as well, Ritchie. Some people make the mistake…. One of the things that we did was, we recorded in analog right from the start. It was straight to tape. What can often happen is that people go into the digital too early, you know. We left going into digital in order to put it onto CD 'till the very last stage of the game so that you had a really powerful signal all the way through. And also, we will release a vinyl version of this album. It is released and available. So, people, if they want to experience that full-on analog, they can break out their record players and, ha ha, play this vinyl. Yeah.
RHRM: I can only imagine what this sounds like on vinyl. Because that really is the ultimate… I get lazy and listen to my CDs, but nothing really sounds like vinyl.


---
To read the rest of this feature, please order a copy of Red Hot Rock #71 at our online shop.
---
Photo credits: Joe Bradley, Carl Dunn, Brad Gregory, Erika Harlitz Kern, Jim McGuire, Lucy Piller, Thilo Rahn, Cynthia Kereluk Rodgers, Steve Spatafore