ROBERT RANDOLPH & THE FAMILY BAND – PART 2
|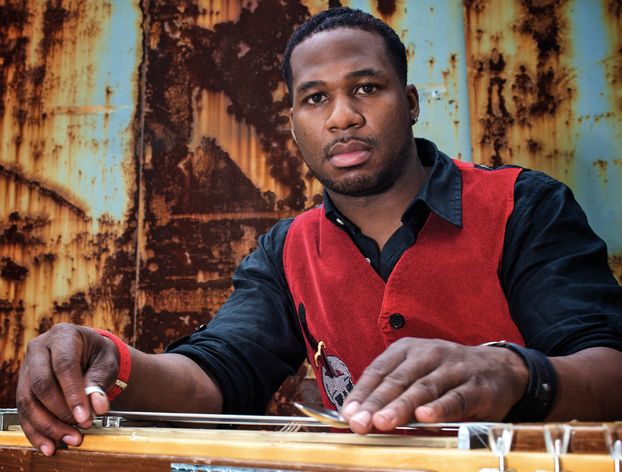 In the first part of our interview with Robert Randolph, included in Red Hot Rock Magazine #71, Robert articulated with passion his love of blues and roots music, his intimately felt responsibility for preserving the great American culture of his childhood and his acting as custodian of respect for this music now and into the future.
We spoke to Robert about learning his craft in church at an early age and about staying positive through the ups and downs of life, all of the time continuing to perfect his craft as a master of the pedal steel guitar. Robert also discussed recording with Joe Walsh for his coming blues album and talked at length about the joy of working with his forefathers in The Slide Brothers. He was excited about The Word, his ongoing collaboration with John Medeski and North Mississippi Allstars. Speaking of which…
---
RED HOT ROCK MAGAZINE: You are certainly keeping busy. And Luther Dickinson is just all over the place. He went out a year or so ago with JJ Grey, Marc Broussard and Anders Osborne on a songwriters kind of thing and I saw him not so long ago with North Mississippi Allstars. The Word was absolutely fantastic at the Wanee Festival this April and the new album from the band, Soul Food, is great stuff.
ROBERT RANDOLPH: Yeah. Yeah. Everybody's busy and it's kind of cool where the industry is going. The music industry has sort of changed, so it's allowing all of us to go out and be able to play live a lot more. It really sort of, you know, kind of helps the progressive music thing keep going. One of the things that was sort of….you know, when you do these records and you kind of make a big deal about this record and you take three years off and you make a big deal about the next record….You know, if you look back at years ago and Hendrix and The Beatles and all those guys, those guys recorded so much music in a short period of time. And as long as that creative energy is happening, that's really what we all should be doing.
RHRM: Artists used to release two or three albums in a year and tour on top of that. I don't know how they did it.
RR: I mean, it's really simple, man. Once I get down in the studio, I come up with about five tunes a day. If you're creative enough, it can happen. We're just making sure now, you know….We've got our record and we've got The Word and I'm sure there'll be some other collaborative thing. And The Slide Brothers and this and that. So, you know, just keep the music going and keep that creative mind and creative energy going.
RHRM: I have been told that you are building or are helping to build a school in New Jersey for music and the arts. G-d bless you. We need more of that kind of thing. Will this school be for very young children or will it be a high school?
RR: It's everybody from five until whatever age. It's really more of an inner city, urban Renaissance Center. Because not only has the music been taken out of the schools. All of the arts have been taken out of the schools. Which has led to a lot of undisciplined kids. Kids really don't have anything to do. So we're using the tools and all of my resources through music, you know, to have a place for some of these kids to come in. Some might want to be dancers. Some might want to be singers. Some might want to be conductors. We really want to hit every avenue. Somebody might want to be a Pro Tools engineer. Somebody might want to be a film guy. So we're really sort of hitting on everything because these kids really don't have any options. Everybody wonders why these kids turn to gangs and stuff and are really doing nothing. And the kids have been crying out for help. So I'm just happy, in the area that I grew up in, to sort of give back.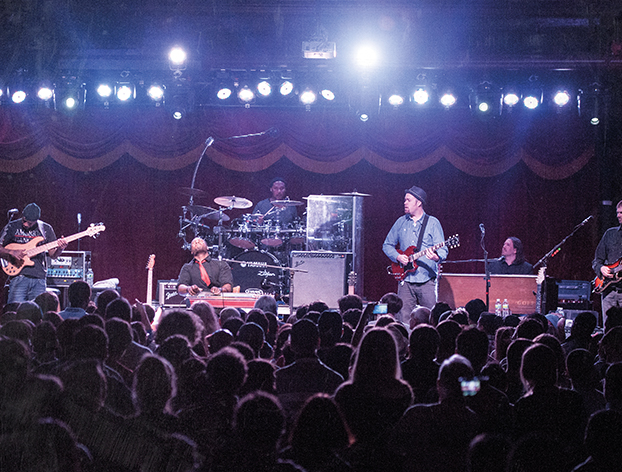 RHRM: On your most recent studio album with The Family Band, Lickety Split, Carlos Santana played on two tracks. He has been one of my heroes since I first got into music and I have had the pleasure of speaking to him a few times over the years. He is another guy that seems to possess unlimited positive energy. What is it like sharing a studio with Carlos and trading off licks?
RR: Well, Carlos is such a great guy and he has that original sound. And it was great to be in the studio with him, just to, you know…. He's an awesome composer, this guy that brings about this great energy in the studio. I mean, words can't really explain how talented he really is. We were in the studio about two days and probably recorded nine or ten songs. He likes to take a lot of his influence from old African music that a lot of people haven't heard before. And things like that. So, it's really great to be in a studio with him. We're actually going to get back into the studio.
RHRM: Are you going to play on one his records or is he playing on your next album?
RR: I don't even know. We're just recording. Ha ha. It's one of those things where there were all of those other songs that we never finished. I even got this idea. I told him, "Look, we should take some of this and start sending this stuff out to some sort of singers and let some singers come in." You know? We'll see where it all goes.
RHRM: Cool. That's exciting. Now, moving on to another of my heroes, Buddy Guy. You have played on a few of his albums and performed with him and his protégé, little Quinn Sullivan, at the last Crossroads Festival, put together as always by Eric Clapton, another legend with which you have some history. I know from speaking to Buddy many times and from experiencing many of his performances that he is a humble gentleman who loves to watch other players shine. What type of chemistry do you share musically and personally when you play with a guy like Buddy Guy who has roots going all of the way back?
---
To read the rest of this feature, please order a copy of Red Hot Rock #72 at our online shop.
---