RUSH – Time traveling with Alex Lifeson
|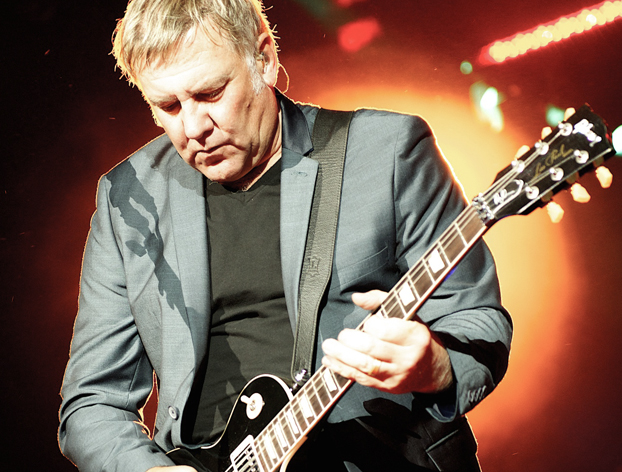 RUSH IS A DECADES-LONG cultural phenomenon; a curiosity to the mainstream, a god-like presence to their millions of fans. The group has somehow found a way to sell out arenas the world over and release countless gold, platinum and multi-platinum albums while still remaining a cult band. The evolution of Rush's music over the years is astounding, as is the devotion and loyalty of the band's fans, waiting for each and every creation with bated breath to experience the music's new manifestation. The Canadian group, each member a prodigy in his own right, is a sublime representation of musical perfection.
Possibly because of the complexity of Rush's music, the band members are often painted as überself-serious purveyors of their craft. While the composition and performance of their classic, but eternally contemporary, music is never taken lightly, Geddy Lee, Alex Lifeson and Neil Peart are nothing if not full of good humor and looking for the next subject for their laughter. Alex is, more often than not, the one to provide the source material for his longtime friends' and partners' amusement. During the many conversations I have enjoyed with Alex through the years, he has provided me with more than a chuckle or two. In both of the following interviews, one from yesterday and one from some years back, the two of us discussed the release of audio and video recordings capturing the concert tours that followed Rush's most recent groundbreaking studio albums, Snakes & Arrows and Clockwork Angels, as well as a wide-ranging array of Rush-related topics.
Conversation Conducted March 5, 2014
---
RED HOT ROCK MAGAZINE: Hello, Mr. Lifeson! How is everything?
ALEX LIFESON: Good! How are you, Ritchie?
RHRM: It's fantastic to be speaking to you once again.
AL: Ha ha. Thank you.
RHRM: I am not going to keep you for too long because I know that you are on vacation now and you do not really want to be talking to me. But I will give myself a little pat on the back and take a guess that you are speaking to me because it is me. Ha ha.
AL: Ha ha. There you go.
RHRM: The first subject that I would like to speak to you about, because I know that this is the most important thing to you and the other members of Rush, is the future. At this point in time, I know that you are on a break. But are there any plans as to album activity or touring or anything?
AL: Yeah. You know, you're right. We're on holiday and we sort of decided when the tour ended that we weren't really gonna think about what we were going to do for at least a year. We really needed to take a break. We were working pretty steadily for a lot of years, but particularly the last four or five years. And we really needed an opportunity to clear our heads and catch our breaths. We haven't discussed it too much, but that's just us. All around us, everybody's making plans for us. And it looks like we'll probably be going out next spring. Spring, 2015. So, we haven't discussed anything about the show or about the material or any of that stuff. But we're sort of aiming towards that as the start date for the next tour. But that'll be, I guess, our 41st anniversary tour or 40th plus, whatever. And we'll see how it goes. We need to stay healthy until then, though. Ha ha.
RHRM: I had been reading, I don't know if it was with you or with Geddy, that it's more important to take a rest. A 41st or 42nd anniversary tour is just as good as a 40th anniversary tour. It's even better because it means you have made it two more years. Ha ha ha.
AL: Yeah, that's right. Ha ha.
RHRM: It will actually be 41 years since the first album or since Neil joined. Because you and Geddy have been together since the late '60s, haven't you?
AL: Yeah. We started in September of '68. So, it's a few more years for the two of us. But we kind of have gotten, you know, fixed on that date since Neil joined, now that we are here 40 years later, as being sort of the start of everything, That's when we started touring America and releasing all of our records and… But yeah, Ged and I have six years on top of that.
RHRM: So what you are planning loosely is maybe a tour. You are not thinking of going back into the studio for another album?
AL: Well, we haven't discussed it at this point. So, anything's possible. I'm just saying that if there is a tour, it's most likely to start next spring. Whether we record any material from now until then, I really have no idea. Geddy's off in Australia and Neil's doing his thing. I'm gonna be traveling for the next six weeks or so. So, we really want to break ourselves away from it for now. But I'm sure sometime mid-summer, I would guess, we'll probably get a little more serious about what we are going to do direction-wise.
RHRM: Now let me ask about this studio albums box that came out. It's actually the fourth studio albums box. This one covers the later years. In this box was a reissued remix of the Vapor Trails album. And it came out on its own, as well. Why, at this point in time, did you guys decide to go back in and kind of revamp that album?
AL: Well, it always bothered us, particularly Geddy, 'cause we'd spent fifteen months working on that record. It was such a fragile experience. We were all walking on eggshells, you know. Neil didn't know if he was ready to come back. And there was a lot of stuff that we had to go through. After spending that length of time, we were just burned out on it. And unfortunately, the mastering was not done within the kind of limits that we would expect. So, it always bothered us. Geddy felt responsible because he had gone in during the mastering. So, he felt like it was on his watch, that he let us down. And then it really bothered him for a long, long time. So, we were very open to the idea of eventually revisiting that album and seeing if we could just get what we always heard out of that record. And David Bottrill really did a great job. He made it all sound like it sounded when we were writing and recording the record. And that's all we really wanted to get back to. So, it was worth that exercise for us to give us a little piece of mind for that album. That's really an important record for us, you know, coming back after a very, very difficult period. And I think it stands out as one of our most important pieces of work because of that. You know, the band, we were very fragile. We went through a great deal of emotional ups and downs making that record. So, we just really had to give it the proper send-off, you know. So, that's why we did that.
RHRM: The DVD and CD live album bonanza for the Clockwork Angels tour was released recently. The string section that joined you on this tour was a fantastic addition to the sound of the band and a lot of the material that you played. Geddy must have been in ecstasy because he finally had his wish granted for an enhanced band, something that he has wanted for a number of years. Ha ha.
AL: I think that we were all waiting for the right opportunity for that to happen. And using strings on the record just made it that much easier to go through the logistics of having somebody travel with us and having a string section with us, you know, nightly. All of us were totally into it.
RHRM: You have been telling me for many years that Geddy has been kind of pushing every once in a while to add a fourth member to make it a little easier for him onstage. I guess adding all of those other textures makes it easier, especially for you and Geddy.
AL: Yeah. A little bit. Ha ha. Not a lot, but a little bit. Ha ha.
RHRM: I had no idea what to expect, as to the setlist, when I went to see you on this tour. I don't like getting online beforehand to check that out because not knowing is part of the whole experience. I was so surprised that you played so much '80s music. Besides playing most of the new album, how did you decide to focus so much on your '80s output?
AL: It just kind of happened that way. It was kind of a controversial period for us and it was an opportunity to, you know, come back with some rearrangements and have a little more power in the guitar. And a little more power, in general, in the presentation of those songs from that era. And it just kind of shifted that way. In rehearsals, we tried some other stuff. But it didn't really inspire us. But it was kind of fun to revisit those…that period. Right from "The Body Electric" right through Power Windows and Hold Your Fire.
RHRM: Instead of having to rely so much on keyboards, having the string section fill in those textures was interesting.
AL: Yeah, that was great.
RHRM: And Neil performed three drum solos each evening. Doesn't that guy get exhausted during the shows? I am a drummer. If I played one-tenth of one of the solos that he played, I would be ready for the hospital.
AL: He's a very driven guy, so he musters up the energy and willpower to get through it. But I think, for him, doing three shorter songs was actually a little easier on him than doing one massive one. But, ha ha, I'm pretty sure he's pretty tired at the end of a show.
RHRM: As part of the 40th anniversary celebration, there is a reissue coming out of your first album, the self-titled one, from when John Rutsey was your drummer. Anything you would like to say about that reissue? What's going to be on there? Have you guys gone back and added anything or done any type of remixes or anything?
AL: It was just remastered. It was remastered at Abbey Road. It's going to be available on vinyl, on 200-gram vinyl. I think it's from the original tapes, actually, the original master tapes. I think there's a poster, there's the original artwork, there's a digital download. So, it's a whole thing to celebrate the 40th anniversary of that first record. And in the mastering, I think, from what I understand, it's a little warmer, it's a little more present in the mid and the bottom end. I'm sure it will sound really quite good. Ahh, that was such a long time ago.
RHRM: Are there going to be any unreleased tracks on there or is it going to be just the original album?
AL: It's the original album. There are no bonus tracks on that. I mean, there are no bonus tracks from that era. There is nothing, really, from then that we recorded that didn't make it on there. Ahhh, that's not really true. We did record a couple of other things on the original version of that first album. And when we went in with Terry Brown, we dropped a couple of songs, like "Not Fade Away" and "You Can't Fight It", which was the b-side of the original single "Not Fade Away", and replaced it with newer material. I think "Need Some Love" and maybe "Finding My Way". I can't quite remember, but we had some problems technically with the original engineer/producer that we worked with. And we went to Terry to kind of save it. And he did do that. And at the same time, we dropped a few songs and recorded some newer songs. So, I suppose, somewhere, those original few songs are floating around somewhere. But I'd kind of forgotten about that, actually.
RHRM: I think I know what your answer is going to be, but… Any chance of a first album run-through on Rush's next tour, with Neil?
AL: No. No.
RHRM: I kind of figured that. But I will push you as I do every time I speak to you that you should consider going back and playing A Farewell To Kings from the beginning to the end. Ha ha. You also have a signature Alex Lifeson acoustic guitar coming out. Please speak a little bit about that and what guitarists out there can expect.
AL: On the last tour, I had a couple of the PRS's, the Paul Reed Smith acoustics, on the road with me. I got to know them and we wanted to collaborate on something for a while. So, they approached me with a version of that acoustic guitar that would be more specific to my needs. So, we went back and forth. We worked on a design together and came up with a body that's a little shallower. So it's a little less resonant, which makes it a little easier to handle onstage on high volume. They did some beautiful trim work on it. The guitar sounds fantastic. Quite a lightweight guitar. So, it's very comfortable to play and to hold. And we released it at the NAMM show in January. So, I think Paul Reed Smith is in production now for it and I'm looking forward to it.
RHRM: Do you have any idea when it's going to be out there in the stores?
AL: I'm guessing within the next month or so. I don't really know for certain, but they really pulled out all the stops to get the first production model available in time for that show. So now that that's all over with, I'm sure that they've gone into larger production. It's going to be a small production. It's one of their elite series instruments. So, I don't know if they'll make a lot of them. But they're certainly beautiful guitars and well worth having.
RHRM: While we are on the subject of acoustic guitars, you and I have discussed in the past the possibility of your one day going into the studio and recording an instrumental acoustic album. Is that still on your radar at all?
AL: I don't think so, to be honest with you. I'm enjoying my time off. And every time I sit down and try to do something musical, I mess around a little bit and then I kind of lose interest. I don't seem motivated to jump into anything right now. I guess I'm a little afraid of the commitment. You know, it's a lot of work and I'm enjoying so many other things in my life right now. Travel with my wife… We haven't really been able to do in a long time. I've got two new young grandkids that I love spending time with. So, my life is pretty full right now. I don't feel the need to do a solo record or anything like that. I've had some requests to work with some people. And they're all fabulous musicians. And one side of me says, "Yeah. You should take advantage of the opportunity." And the other says, "You know what? Enjoy your life. You worked hard for so many years. Now you have an open space for a bit. Don't clutter it up." So, that's kind of the school of thought that I have right now.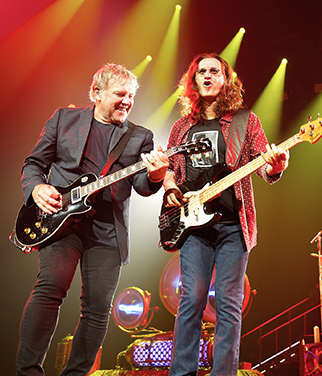 RHRM: And Rush works so hard when you get together, both on the production of albums and then on the tours that you do. It must be so strenuous doing those shows.
AL: Well, I'd probably be more amenable to the idea of doing something solo if I knew that we weren't going back to work at this point, like in a year from now. It's gonna be like a slow-rising tidal wave come September, October. And it'll just keep rising until we are actually out on tour. And it's gonna be very, very demanding. We're a little older. It's gonna be tough. And so we have to be really prepared for it and be in good shape and good health to do all of the things that we want to do. It's hard being in this band and playing for three hours. It's very, very demanding. So, I don't want to clutter everything up right now.
RHRM: I was just going to mention that you do three-hour shows. And the type of music you play, it's not like you are doing three-minute pop songs. So, we talked about your signature acoustic guitar. When is the signature double neck coming out? Ha ha ha.
PR: You know, I am doing something with Gibson. Just a limited series of, you know, like an Alex Lifeson double neck. They don't have a lot of people that are promoting these sort of things. Jimmy Page and myself, I think, are probably the only two that are connected with that particular guitar. But I think they want to do a short series of that guitar based on my white double neck. And we'll have some fun with it, I think.
RHRM: Ha ha ha. I was just joking with you. But there really is one coming out!
AL: Yeah. We're developing it now, in fact.
RHRM: I love those guitars. I visited the Gibson factory. To watch the construction of those double neck guitars, it's the most incredible process to watch them being developed from scratch to the point where there is a finished product. So, then you have to play "Xanadu" on the next tour.
AL: Hmmm. I think so. Ha ha.
RHRM: I understand that you have been doing some painting.
AL: Yeah, I do paintings for the Kidney Foundation. I do one annually. I keep meaning to go beyond that a little bit and continue doing it. But one thing or the other always pops up. I'm part of a program they have where they get artists… When I say artists, I mean writers and actors and musicians and sports people. It's called A Brush Of Hope and everybody does this little painting. They provide the paint for you. And you do a little painting and it goes onto an auction on ebay and they raise well-needed funds that way. So, I've been a part of that for five or six years now. And I do an annual painting. And we're fortunate enough to have enough interest from Rush fans all over the place. And I've been able to raise, oh I guess, about 200,000 dollars so far in my time with them.
RHRM: You've also been doing some acting. You were in the film, Suck. You have appeared on Trailer Park Boys. And the whole band was in I Love You, Man. Any chance that we are going to see you appearing in any more films down the road?
AL: Yeah, those things come up every once in a while. And if they look like fun or they're not too demanding, then I like to do them. But no offers currently.
RHRM: The stage films you do for the Rush shows are great. The characters you develop are hilarious.
AL: Yeah. That's a riot doing that stuff.
RHRM: Rush finally got inducted into the Rock And Roll Hall Of Fame last year. This is something that Rush fans have been hoping for forever. There are so many bands that deserve to be inducted way before they finally are. Rush was one of them. Yes and Deep Purple are two others. But you were finally inducted. What was the experience like on that night, being up on that stage, playing and knowing that you were being inducted?
AL: Well, it was very positive. I think we felt a little indifferent to it before the fact. But once we got there, I think the turning point for us was the jam rehearsal the night before. We were on the stage with all of these other great musicians that we admire. And I guess we've had some influence on some of them. So, there was such a community amongst all of us that was really special. And it occurred to me then that the whole idea of this museum, this Rock And Roll Hall Of Fame thing was not a bad idea. And so long as it's very inclusive, that it's open to all forms of rock music, then it's a good thing. And now that so many have been inducted and everybody gets a vote, it's becoming much broader. Yes and Deep Purple were at least up for nominations this year. And that's a positive step forward. So, I think it'll get better and better as it gets broader and broader.
RHRM: I always mean to ask you this. I was too young when 2112 first came out. And I'm just wondering how certain individuals may have reacted to the cover art because they may not have looked any deeper into the meaning of the drawing than what they saw at first glance. Do you remember if there was any type of backlash stemming from a misunderstanding of that album cover?
---
To read the rest of this feature, please order a copy of Red Hot Rock #71 at our online shop.
---
Photo credits: Ritchie Adams, John Arrowsmith, Andrew MacNaughtan