SAMANTHA FISH – SWIMMING IN A NEW POND
|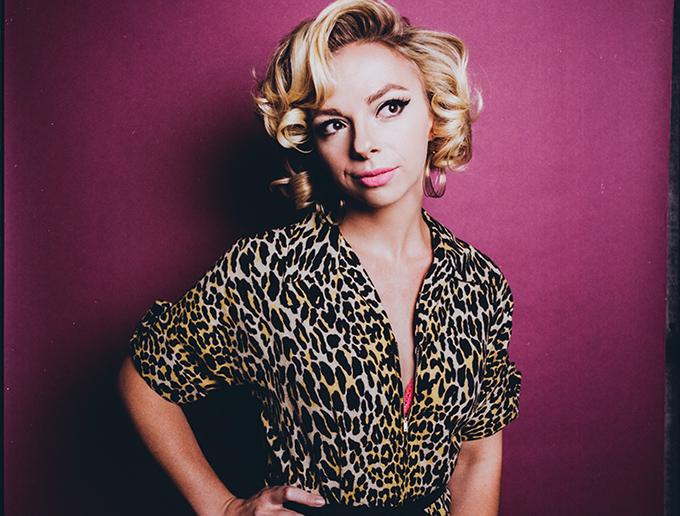 SAMANTHA FISH'S RESTLESS ENERGY AND DESIRE TO PLAY THE BLUES had her releasing not one, but two albums of new music during 2017. Stylistically, one would be hard put to pin down both records as originating from the same artist. While Chills & Fever explores the more vocal-based approach of a bygone era of classic soul and r'n'b, Belle Of The West mines the still-fertile and always-alluring territory of Mississippi blues, stripping things down with the assistance of producer and North Mississippi Allstars guitarist and vocalist Luther Dickinson and his cohorts.
As a mainstay of Ruf Records' roster, an artist that the label can depend on to deliver the goods on a regular basis, as well as one who continues performing countless nights to her growing legion of appreciative fans, recognition of Samantha's guitar playing and singing is on the rise. Just before the release of Samantha's Chills & Fever, and just before she was about to jump onstage for yet another evening of blistering blues, Red Hot Rock Magazine had the opportunity to sit down and catch up with Samantha for an in-depth and wide-ranging conversation.
---
RED HOT ROCK MAGAZINE: OK. Everything you say from now on is on the record.
SAMANTHA FISH: Alright! Hold me to it.
RHRM: Ha ha. Samantha. How are you doing?
SF: I'm good.
RHRM: You have been extremely prolific these past few years. With all of the touring and live shows, you have managed to release four solo albums, as well as a studio and live album together with the Girls With Guitars project. You must be working from studio to the road and back again like most artists did back in the 1970s. You have been keeping busy.
SF: Yeah. Absolutely. You're right. The last six, seven years or so, it's been that. Every album has kind of served as a reinvention and a snapshot of where I'm at. And then we go and kind of ride that until the next time to go and make another album. It's been good, though. I really kind of enjoy it, though, and it keeps everything fresh. You keep making new albums. I have something new to play. Since we're doing it so consistently, it's important to keep myself entertained, too.
RHRM: You are basically living out of a suitcase. You don't have that much time to go home.
SF: Yeah. My suitcase is disgusting.
RHRM: Ha ha.
SF: It's really gross.
RHRM: Your album, Chills & Fever, is a completely different style of music than any of your previous records. This one is much more soul-oriented, often veering into 1960s girl group territory.
SF: Yes!
RHRM: Tasty stuff, but there is not much straight blues. This album generally is more upbeat and shiny than what you have done before. Stylistically, do you think this will be a one-off or is this the direction in which you think you are moving?
SF: You never know. I mean, I think the idea of the big band is something that we'll probably hold to for a long time. Just because once you go big like that, the drama and the texture that comes along with it, it's hard to go back. The trio, I will, maybe at some point. But I can see myself doing this for a long time. We haven't started the live shows with the six-piece yet, but we're gonna do that very soon. This Chills & Fever tour is gonna be big, you know, bigger than anything I've done. So, but yeah, it's fun and it's dramatic and I get to really sing. Sometimes, I don't have to split my attention so much. When I'm in the trio, I'm holding down so much rhythm guitar. Which I'm the only guitar player in this other band, too. But there's just room to breathe. There's room to breathe. So, I don't know. I think I'm gonna fall in love with it and not want to go back.
RHRM: But stylistically, besides the size of the band, do you think you are going to stick to this more soul-oriented thing?
SF: You know, this album, it's all covers. We went and we found songs from the 1950s and 60s, soul music like you said, some girl groups, r'n'b. And really, that's where my heart is when it comes to vocals. When I started learning how to sing, it was all… I mean, I was trying to sound like Ray Charles and Otis Redding. And I loved Aretha Franklin. But with what I've been doing in my trio, everything took more of a rock-oriented path and I didn't really get the opportunity. So, I think I'm gonna fall in love with being able to sing and do different things dynamically with my voice. And it's gonna influence my writing. Everything you do influences what you do next. So everything I've done, I think, of course, it's gonna influence the writing for the next record. And we'll see where it takes us.
RHRM: So, tonight you're playing as a three-piece but you will be beginning with the larger band soon, with horns and everything?
SF: Yeah. It was just getting everything together. The shows had to be right to take off on the six-piece. And we're in the final days of the Wild Heart tour, which is my previous record.
RHRM: OK. I have the new record even though it has not come out yet, so I was thinking you had already jumped into that tour. So, you are still touring behind the Wild Heart album.
SF: Yes. It's kind of weird. We're finishing up that tour with two weeks in France. When I come home from France, it's all Chills & Fever. I got the six-piece band. I didn't want to start that tour and do all of those songs as a trio. 'Cause I feel like I want to come out and sound as powerful as the record does, in my mind. I'm sure we could so something cool as a trio for that album, but I really want people to get the full impact when we do it live.
RHRM: So, on the Legendary Rhythm & Blues Cruise, you have the full band?
SF: Yes.
RHRM: Which is cool because Booker T. will be playing with a full Stax review and Bettye LaVette is also performing. So, there will be lots of soul on the ship, as well as all of the great blues they always have on there.
SF: Oh, man. It's gonna be killer.
---
To read the rest of this feature, please order a copy of Red Hot Rock #75 at our online shop.