SELWYN BIRCHWOOD – BLUESMAN ON THE RISE
|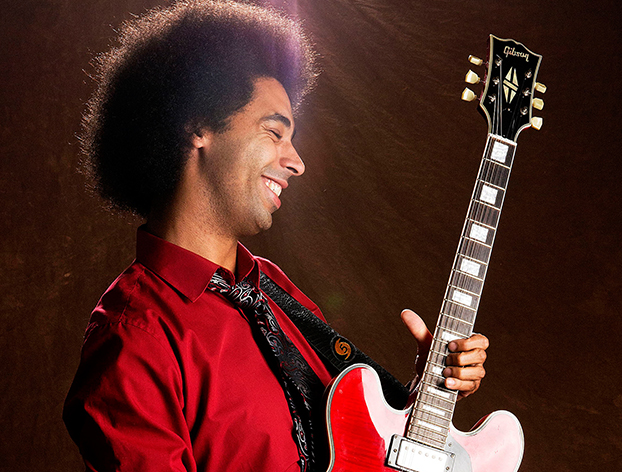 Every so often, just when it seems as if the blues music genre is fading into obscurity, a new artist arrives on the scene to remind aficionados of real music what they have been missing. Recent times have introduced us to accomplished artists such as Robert Randolph and Gary Clark Jr., each applying their own distinctive spin to the perpetuation and representation of the best of what American music has to offer the world. The time has come for Selwyn Birchwood to make his mark. Prodigious musician, engaging vocalist, fantastic performer, prolific songwriter, interesting name. This guy is the whole package, a fine representation of which can be found on his most recent studio album, Don't Call No Ambulance, released on the iconic Alligator Records label. Red Hot Rock Magazine caught up with Mr. Birchwood at his hotel just as he was coming off the road and right before he was to venture over to the venue where he was to deliver one of his exciting and soon-to-be-legendary patented performances.
---
RED HOT ROCK MAGAZINE: Selwyn Birchwood, how are you doing?
SELWYN BIRCHWOOD: I'm doin' alright, man. Ha ha.
RHRM: We saw you perform some time ago, opening up for George Thorogood at the Parker Playhouse in Fort Lauderdale.
SB: Oh, killer.
RHRM: I didn't know who you were at that point, but I really enjoyed the show. Then, when I was preparing for this interview, I said, "Wait a second. I think that I've seen this guy." Ha ha. I listened to the album, checked your dates online and confirmed that it was you that I had seen.
SB: Yeah. Yeah.
RHRM: When you're opening up for a guy like George Thorogood or anyone who is an established artist that has been around for some time, and you do your tail dragger routine for all of the blues fans out there…
SB: Ha ha. Yeah.
RHRM: Does the headliner sometimes get taken aback if you are more charismatic than they are? Not necessarily George Thorogood, but anyone in general. Do they need to pull you aside sometimes and say, "Wait a second. We are the headliner. You need to take it easy onstage."
SB: Nah. I mean, I don't know if they think that and don't say anything to me. But no one's actually said anything to me. But it's, you know, when we get hired for a show, we're gonna do our show and we're gonna do our best to put on the best show, play the best music that we can and be as entertaining to the people that are there as we can. It's one of those things, if a headliner is worried about something like that, you know, maybe they aren't doing something correctly. Ha ha.
RHRM: Yeah. Maybe they should be in a different business.
SB: Yeah. So, I mean, that's one of those things I don't think should bother anybody. But if it does, then they got something else going on, I think. But, yeah.
RHRM: Someone like Thorogood has his charisma and he's been doing this for a long time. But some performers get out there and they just phone it in. So when someone like you gets onstage and gives a good performance… Maybe it makes the headliner better. Ha ha.
SB: Ha ha. Yeah.
RHRM: Tonight, you are playing a club gig. I am guessing that that type of environment allows you to really shine as a performer, to go all out with the extracurricular activities you learned from watching your heroes, such as Buddy Guy, which he, in turn, learned from guys such as Guitar Slim. The baton has been passed and you are walking through the audience, playing guitar and keeping the fans happy.
SB: Yeah. It's harder to connect on the bigger stage sometimes. But that's another reason to try to get as involved as we can with the crowd. 'Cause, you know, people are there. And whether people want to admit it or not, audiences want to be entertained. I feel like even if you're disinterested in the music, if someone can grab your attention and kind of pull you in, then you're happy about it. I can't imagine going to a show, even if I'm uninterested, and the performer's really starting to get you into it, that you'd be upset about it. So…ha ha. Yeah. It's normally a little easier in a more intimate setting, but, I mean, we do our best to do it on whatever stage we're at. Sometimes, with the bigger crowd, it's actually even easier with that many people. You know, you have a lot of energy floating around and you can really get into it.
RHRM: I understand that you picked up the guitar at a fairly early age. You are still only thirty now. When did you first start playing and at what point did you transition to also playing lap steel?
SB: I picked up the guitar when I was twelve or thirteen, I can't remember, and I didn't even get into blues until I was about seventeen. It was more of a background kind of hobby and I just enjoyed picking up songs off the radio. I thought it was really cool to be able to play something I heard and stuff and something that's recognizable. When I was seventeen, I saw Buddy Guy and that's really what got me into blues and everything. And when I was nineteen, I met Sonny Rhodes, and that's really what got me into lap steel, hearing him play. 'Cause, you know, you hear the instrument a lot in country music and even, like, Hawaiian music and stuff. But I'd never seen anyone play one before. And when I saw him play it and I heard the sound of it, it is really what caught me, especially putting it into blues. The sound of it seemed kind of a really cool and unique contrast to it. So I was like, man, that's really cool. It sounds completely different to a normal slide a lot of times and I wanted to learn how to do it as well. And he wasn't upset about that either. He was more than happy to let me borrow his lap steel. I'd steal it whenever we got back from shows or whenever we had a day off. I'd run and grab his lap steel and try to bang around on it. Ha ha. Yeah.
RHRM: Your first big break came when Sonny invited you to go on the road with him. I remember seeing him play back in the '80s…
SB: Very cool.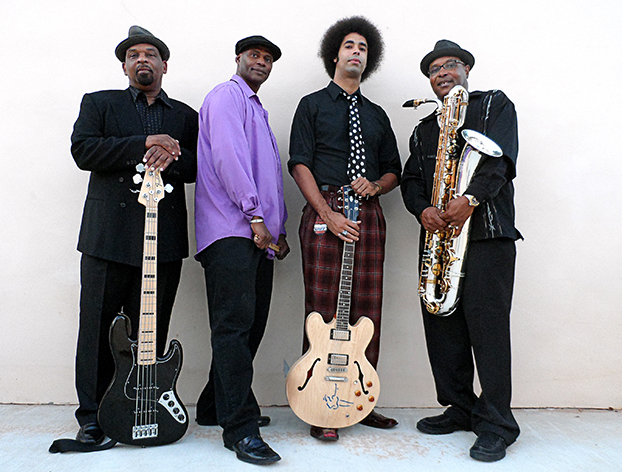 RHRM: …but he's been kind of under the radar for some time.
SB: He used to live in Florida here. And just over the past years, he moved to California. I think it must be about seven or eight years ago now. He's had some health issues which have kind of kept him staying locally there in California or up in Canada, closer to where he's been living.
RHRM: I know that you are a big Albert Collins fan, also.
SB: Oh, yeah.
RHRM: At my school, when I was still living up in New York, I also got to see Albert perform and to go backstage and meet him after the show.
SB: Oh, I'm jealous. Ha ha.
RHRM: He was such a nice man. I had loved the show, but I didn't want to bother him. As I was walking by him, I just tried to tell him quickly how much I had enjoyed the show and that I loved the way he played guitar. I shook his hand…he had big hands…and he held onto my hand, wouldn't let me go, looked straight into my eyes and said, "I really appreciate it, man."
SB: Very cool.
RHRM: For a teenager who was really getting into the blues, to hear that from someone that I admired so much, it was just amazing. I also got to see Johnny Copeland there. A lot of great artists played at that school while I was up there. Anyway, back to Selwyn Birchwood. Ha ha.
SB: Very cool. No. I'm interested. I didn't get to see any of those cats, so it's always cool to hear stories about them.
RHRM: One more nice memory. I was online, watching you perform at Skipper's Smokehouse in Tampa. I lived in Tampa for about three months back in the late '80s and saw John Lee Hooker play at Skipper's.
SB: No shit.
RHRM: Anson Funderburgh and the Rockets with Sam Myers was the opening act.
SB: Wow.
RHRM: I was able to get onstage after the show. I patted John Lee Hooker on the back and I could see what he was doing. Supposedly, he couldn't read or write that well. But he could kind of sign his name. I noticed that if someone had purchased a professional photograph and asked him to sign it, he would write, "John Lee Hooker." But if you had ripped a photo out of the newspaper and handed it to him, he would just sign his initials. Ha ha!
SB: Ha ha ha.
RHRM: That's great.
SB: That's very funny, man.
RHRM: Anyway, Sonny Rhodes asked you to go on the road with him. You met him through a friend, I understand.
SB: Yeah.
---
To read the rest of this feature, please order a copy of Red Hot Rock #72 at our online shop.
---