SLASH – No Elephants In This Room
|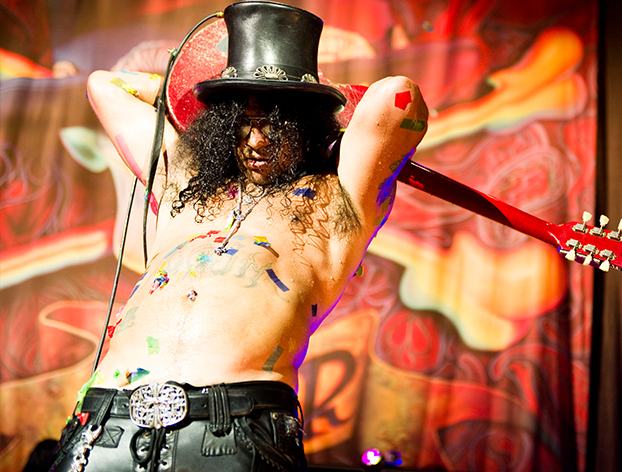 Red Hot Rock Magazine, many times over the years, has had the pleasure of speaking to Slash and been honored to have the cat in the hat grace our front cover. The legendary guitarist has consistently provided discerning music fans with some of the best in hard rock, beginning with Guns N' Roses, and then moving on to projects such as Slash's Snakepit, Velvet Revolver and his current solo work, as well as the innumerable guest spots and sessions with which he has been involved.
Slash's most recent studio effort, World On Fire, and his brand new live release, Live At The Roxy 9.25.14, both featuring Myles Kennedy & The Conspirators, reveal a musician still very much at the top of his game, full of energy and raring to go.
Not only will you now enjoy a current interview with the great man, but a second interview that follows allows you to slip back in time fifteen years and to be a fly on the wall for a conversation that was conducted with a seemingly less sober Slash during December of the year 2000. A bit of the content in the two interviews overlaps, but it was left unedited for interested fans to compare Slash's discussion of similar subject matter so many years apart and in different states of mind.
After reading every word of the magazine you now hold in your hands, check out slashonline.com to learn how you can assist the International Fund for Animal Welfare in their mission to prevent the slaughter of elephants in the wild.
---
RED HOT ROCK MAGAZINE: Hello, Slash. How are you doing?
SLASH: Hey, man. I'm good. How are you?
RHRM: Very good, thank you. Nice to speak to you again. Before we launch into your latest studio album, the great World On Fire, I wanted to mention a moment that I absolutely loved from the last show at which I saw you perform. I noticed your double neck being prepared backstage, a beautiful instrument with an acoustic neck and an electric one. You played a couple of songs with that guitar. "Anastasia" from the Apocalyptic Love album, with its gorgeous acoustic intro, was a highlight of that show. I am hoping that you are going to do more of that kind of thing in the future.
SLASH: I designed that guitar back in the mid '90s. And it was really out of necessity. So when there's a song that has an acoustic section, as well as an electric part of the song, it worked out really well. And "Anastasia", it's funny because I was playing "Anastasia" on electric, solely on electric, for all of the tour last year. It suddenly dawned on me that I had that guitar, you know. Ha ha. So, it comes in handy. There will probably be a song or two off this next record that it will work out for, as well.
RHRM: It's beautiful just looking at that guitar.
SLASH: It's a big, heavy motherfucker, though.
RHRM: Yeah. Ha ha. I can imagine. OK. World On Fire. Wow! You are extraordinarily prolific these days, even by your standards. There are seventeen high-energy tunes on there, well over an hour of new music. And that's on top of other side projects on which you have worked. How do you keep up this pace now that certain substances no longer help you out? Ha ha.
SLASH: Actually, all things considered, it's only because of all of the substances that I'm able to, you know, the lack thereof of all the substances, that I actually have the time, the energy or even the inclination to do all the stuff that's going on now. I think really the reason I've been so, as you say, prolific over the last however many years is only because, you know, I just spend more time writing and just being productive than most of the time that I would spend
either at the bar or at my dealer's house. So, there's a definite, you know, something to be said about the difference between the two
dynamics.
RHRM: I was timing you to see how long it would take you to say "all things considered". You did it in less than four minutes. So that was a good one. Ha ha.
SLASH: Ha ha ha.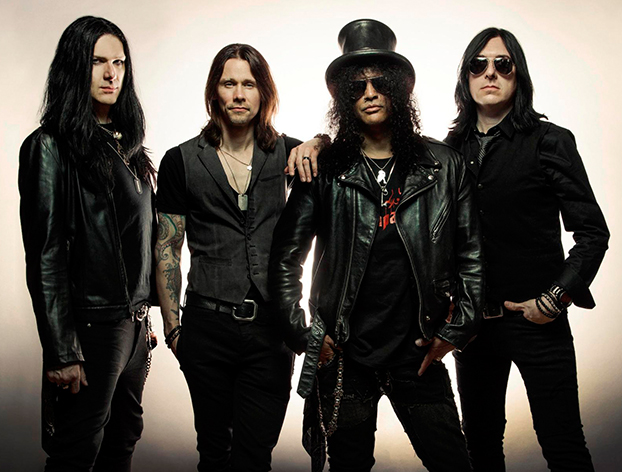 RHRM: You launch into the record with the determined riff of the title track and continue with tune after tune, harnessing that distinctive Slash fire and tone. Great stuff such as "Shadow Life" and "Automatic Overdrive", the fantastic groove of "Withered Delilah", the absolutely beautiful guitar playing and tone on "The Dissident". On this last few albums and in your live shows, you really have recaptured the spirit and raw energy of the early Guns N' Roses days. I guess that's because you are in a real band situation again. And I was there in those early days, checking out Guns in little, sleazy, dingy clubs on Long Island and in New York City. So, I remember what that was like and how incredible those shows were.
SLASH: That was my favorite period, I think, of G N' R. You know, I think a lot of it has to do with the fact that, yeah, it's definitely a band vibe going on. And the guys are giving me a hundred per cent. They really want to play. You know, they're not jaded. There's not a lot of, sort of, inhibitions going on about, you know, ego, influence, inhibitions or anything. They just generally want to play. And so, when we start working on a song, they just put their fuckin' heart and soul into it. And I feed off of that. It's great to have a platform to be able to work with some guys who can play the song well enough so that I can just sort of get into the emotion part of it and really sort of sink my teeth in or whatever. You know, I haven't really thought about it enough to analyze and verbalize about it. But there was an initial energy that happened from the very first time we rehearsed together back in 2010. And all we've been doing since then is just expanding on that initial spark, you know.
RHRM: Yeah, the band is extraordinary. But the thing that really jumps out when going to see you play – and we go to see a lot of guitarists perform – and I love all styles of guitar playing, but you are one of the only players that I can actually sit there and watch play a ten minute solo and keep it interesting from the beginning to the end. You don't just noodle.
SLASH: That's a crapshoot. I appreciate that. You know, some nights are longer than others. Some nights I go off on a tangent for a while. Some statements come together quicker. But it's all improv. So, I try not to ever get into the thing where I'm just playing lead for the sake of playing lead. I'd rather just not do it unless I'm into it.
RHRM: With you, it's just pure emotion. That's what's so great about it. On World On Fire, I really enjoy tunes such as "Bent To Fly", where you stretch out into different vibes and Myles is able to go from that lower, quiet, almost whisper-like voice and then let loose. "Not For Me" from Apocalyptic Love was another great one with a similar feel.
SLASH: Yeah. You know, the great thing about Myles is that he totally sings from the heart. Everything about how he sings is very much from an emotional place. And you can hear it in his phrasing. You can hear it in his melodies and so on. And it's one of the things that turned me on to him in the first place. 'Cause, you know, I've always been known for being in bands with these really great, sort of raspy…you know, a lot of the bands, anyway, that I've been in have that sort of great, raspy kind of Axel (Rose)-type voice. And that's great if it's real. But there's so many poseurs that try and do that that want to sound like Bon Scott or whatever. I got to a point where I first heard Myles where it was something totally unique and just as expressive and just as aggressive in places, but without trying to sound like somebody else. And it's just something about that really turned me on. So, when I first started working with him, I realized that he has all these different levels of dynamics in the way that he expresses himself. And it's just been a really interesting run with him because I can write something in so many different styles. And it's all rock'n'roll, but you can be really diverse with it and he can find…his ear catches it and he finds a melody and he finds a way of singing something that he wants to say. And it can be any different level of output that he does it. So, it's really been a lot of fun working with him.
---
To read the rest of this feature, please order a copy of Red Hot Rock #72 at our online shop.
---
Photo credits: Travis Shinn, Eagle