THE DEAD DAISIES – JOHN CORABI'S NOT-SO-MOTLEY CREW
|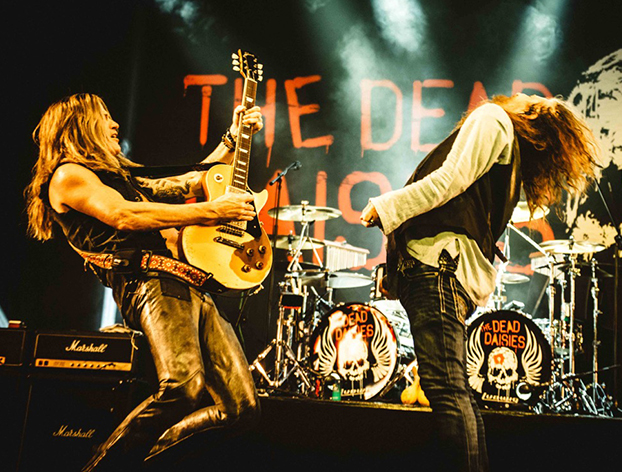 ONETIME LEAD SINGER FOR VARIOUS WEST COAST-SITUATED SLEAZE-ROCK BANDS INCLUDING HIS TIME AS MÖTLEY CRÜE'S FRONT MAN, JOHN CORABI is now fronting a group of guys well-known for their stints as sidemen for rock icons such as Ronnie James Dio, David Coverdale, Slash, Ted Nugent and Ozzy Osbourne. Call them a supergroup, a collective of prodigies or what you will. The Dead Daisies most certainly is a great rock'n'roll band.
Red Hot Rock has had the opportunity to chat with John at various times during his career, as a member of the band Ratt and, most notably, when he and former KISS guitarist Bruce Kulick performed together in our overseas radio studio a couple of decades ago during their time in the band Union. It was a thrill to catch up with John once again as to his current goings-on as lead singer of The Dead Daisies.
RED HOT ROCK MAGAZINE: How's it goin', my man?
JOHN CORABI: Alright. How you doin', buddy?
RHRM: Good. You've been keeping busy lately.
JC: I don't have to sing today, but we just did our show last night at the Whisky (a Go Go). It was amazing. And we got one more show at the football stadium in Phoenix, Arizona for their team, the Phoenix (Arizona) Cardinals. We're playing on Sunday morning. And then, I am done for two weeks. I'm going home, I'm gonna see my wife, sleep in my own bed, eat at my local bar and I'm just gonna chill out for a couple of weeks. And then we pick right back up again and we do Japan and South Korea and back to Europe for two more months. So, we've got a busy schedule.
RHRM: Make Some Noise is the third album from The Dead Daisies, the second one featuring you on lead vocals. Especially with the addition of Doug Aldrich on this new record, it really feels like a solid band. To clear up any confusion, are The Dead Daisies still being looked at as a collective or are you guys treating this now like a long-term band? A lot of musicians moved through the group in its formative stages.
JC: Well, you know, it's weird. First of all, David Lowy, our guitar player, put the band together in 2012. It's funny. He put it together with a singer named Jon Stevens, who was in INXS. And they kind of did it ass-backwards. They basically wrote a bunch of songs, went in and recorded the record with session guys, and then put a band together. And there's obviously some growing pains. Their first drummer was, like, some Australian kid that for whatever reason just completely had a mental breakdown or some shit, you know, and bailed and split when the band was in New York at whatever rehearsals. And then, basically in a pinch, they called Frank Ferrer, you know, the drummer from Guns N" Roses. He came in and did a few shows. And they just kept finding fill-in drummers until they found Brian (Tichy). And so, they've had some growing pains in public. But one of the things about the Daisies that we've all come to realize is that with The Dead Daisies, the sum is greater than the parts, you know, for all of us. It's basically about The Dead Daisies. So the band will book shows sometimes or book a tour and, unfortunately, because the guys in the band are all in demand for sessions and different things, there's been a couple of times where Marco (Mendoza) had already booked a tour, like, he was out finishing up some stuff with Thin Lizzy and they had booked some stuff and Marco couldn't be there. So we called Darryl Jones. And he filled in and then Marco came back again, you know what I mean. So, a lot of the names that are on the list are just friends of ours that filled in for a few shows or something that one of the guys couldn't do. Last year was another example. We went to Australia with KISS. And right before the tour, Richard Fortus actually was in a motorcycle accident and broke his collarbone and some ribs. So, we called Dave Leslie from the Baby Animals and had him fill in for Richard. And then when Richard was feeling better, he came back. So, I think at this point right now, David Lowy has been saying this is the band. This is it. This is the lineup. And barring anybody getting sick or double-booking themselves, anytime you see the band, this will be the band live.
RHRM: David Lowy is the founder and architect of The Dead Daisies, as well as its mainstay. Ironically, he is the least known of the members. I understand that he has quite a bit of experience in the business world and that he has been a member of some more locally known Australian bands. Has he played with anyone with whom we would be familiar?
JC: David has been in a band called Mink. He was in a band called Red Phoenix. But he was also in a band called (Doc Neeson's) The Angels, which a lot of people have heard of. You know what's funny? Sometimes I want to punch him in the throat, he's so talented. First of all, he's incredible with business. He's got a great business mind. But he loves music. And he writes good songs. "Long Way To Go" from our new record is basically a riff that David had and he brought it to the band. We all worked on it together, but it really kind of started with David. Another song on the record that actually started with David was a song called "Mine All Mine". So, he's a great songwriter. And obviously, he had great vision to put this whole thing together.
RHRM: It must be great playing with what amounts to a modern day, hard rock supergroup. Besides yourself, anyone who has been listening to rock'n'roll for the last few decades knows of Doug Aldrich and Brian Tichy and Marco Mendoza. All great musicians who have been involved in many great projects over the years. I would think that the title track from the new album, Make Some Noise, is quite an audience participation kind of thing in a live setting.
JC: Yeah. It's a little weird. The funny thing is, audiences at this point don't quite know it yet. It's not like it's a radio staple yet where immediately when you play it, they know it. But even when we play it live, the first chorus will go by and everybody's lookin' like, "OK. Make some noise. Alright. I got it. I think I got it." By the end of the song, they're just singin' along. And it's great. But the cool thing about that song, I'm a little jazzed about it. I'm a bit of a football freak. Love American football. And it's hilarious now because all of these sports outlets are starting to pick that song up as a primer for their fans. So, that's why we're doing the show on Sunday at the Cardinals' stadium. We're doing a tailgate party in their parking lot and then they're just blasting that song, blasting the song throughout the arena on game day. So, they're interested and the Cowboys, the Bears, the Ravens. The Tennessee Titans are playin' it. Major League Baseball's interested in it now. NASCAR. There's a couple of soccer teams in Europe that are interested in it. So, we're pretty stoked about that.
RHRM: I can imagine that that song would go over perfectly in a stadium. And I'm sure that you are not going to mind the couple of bucks that are going to come in from that. With how difficult it is to sell records these days for anyone, avenues like this are always helpful.
---
To read the rest of this feature, please order a copy of Red Hot Rock #75 at our online shop.