TOM KEIFER – PLATINUM SLIPPERS
|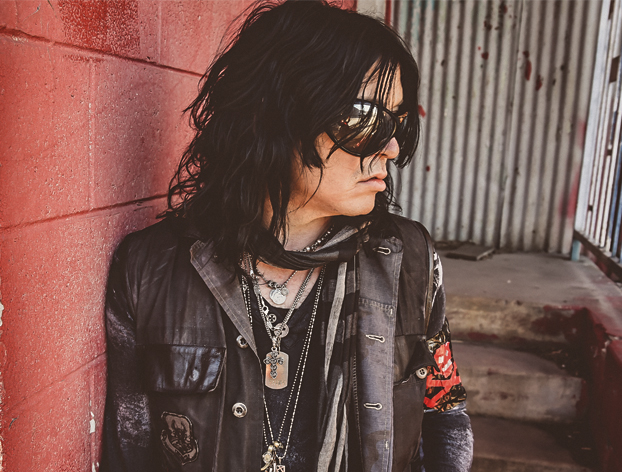 TOM KEIFER SPENT HIS FORMATIVE ROCK'N'ROLL YEARS as the leader of blues-rock hitmakers Cinderella. After music industry lawsuits, vocal cord issues and way too much time spent away from the recording studio, Tom, now living in Nashville, returned with his first solo album in 2013. A nice slab of gritty, sleazy, southern-infused rootsy rock, The Way Life Goes was well worth the wait. Shortly after taking in a blistering set from Tom and his band at South Florida's inaugural Rockfest 80's, Red Hot Rock Magazine and Mr. Keifer bent each other's ears for a nice in-depth conversation about Tom's entire career.
Conversation Conducted April 11, 2016
RED HOT ROCK MAGAZINE: Hey! How are you doing, Tom?
TOM KEIFER: I'm doing good. How are you doin', man?
RHRM: OK. Very good. It was great meeting you at Rockfest 80's, a celebration of all things 1980s.
TK: Yes. It was a good time. Nice meeting you, too. And sorry about choking you.
RHRM: Ha ha ha. You were not the first and you will not be the last. Having said that, when I meet the artist behind music that I enjoy and he or she turns out to be a nice, friendly person, it makes me want to cover their music that much more. Thank you so much for the hospitality on your bus. It was very nice of you.
TK: Oh, absolutely. Absolutely.
RHRM: Rockfest 80's leads me right into my first question. It's an observation, really. I never thought that it was fair that Cinderella got lumped in with the so-called "hair bands" or the pop-metal genre. Many of the groups performing at this festival fit squarely into that genre and you guys may have looked like those other groups. So did I in the 80s. But your sound, at least to my ears, was always rooted more in 1970s classic rock and the blues. I mean, not many of these other bands use a slide the way that you do. But then again, Queensrÿche gets lumped in there also and they are not even in the same ballpark as that type of music.
TK: Yeah. You know, it's funny how music gets classified visually more than the sound itself. I always say that I think that the music business would be a much better place if people listened to music with their ears and not with their eyes. Because if you really close your eyes and listen to all of the bands of the 80s, from that decade, they're all very unique-sounding. Very different-sounding singers. Different styles. If you go from Poison to Guns N' Roses to Tesla to Cinderella to Def Leppard to Twisted Sister. Very different sounds. Very different vocalists. Very different music styles. Very different attitudes. So to lump that all together on a look always felt kind of strange to me. The 70s had a look to it, but the bands weren't lumped together and judged by the look. They were judged by the music. There was certainly an image in the 70s that most of the bands had. But I think that came about because of MTV for us 'cause so much was placed on the visual. I think people started to become guilty of focusing more on the look than the music. So yeah, I agree with you is what I'm saying. It's silly to tag all things 80s "hair metal" or whatever, you know, 'cause it was all very different.
RHRM: It always felt to me as if a lot of the 80s bands hadn't done their homework and gone back to listen to the roots of the bands that they had grown up on the way the 70s bands had. But listening to your music, both with Cinderella and on your solo album from just a few years ago, The Way Life Goes, I always believed that you had gone back and immersed yourself in the blues. It was pretty obvious going back even to the early Cinderella albums, especially Long Cold Winter, that you were a fan of that music.
TK: Oh, well, definitely. I was first inspired through the 70s artists who were inspired by it. I loved Jimmy Page. I didn't know what he was playing was called blues. But when I found out that it was, then I dug back and I started listening to B.B. King and Johnny Winter and Elmore James and even as far back as Son House and Robert Johnson. I'm a huge fan of that music. I encourage any musician to dig into what the artists that you like, dig into what they liked. Because you get an opportunity then to interpret the roots your own way and not just kind of imitate what that artist is doing. And, you know, I love all of the American roots music, from country to gospel to r'n'b. When I was kid, I used to go see James Brown in Atlantic City. I was a teenager and, you know, loved him. Probably stole a mic stand move from him here and there and a couple of screams. Ha ha ha. So, yeah, I love everything. I listen to Top 40. I love Bruno Mars and everything from Taylor Swift to Halestorm to hard rock to pop and everything in between. So, yeah, I listen to it all. And definitely have dug back into the roots, for sure.
RHRM: It's funny. My touchstone, also, for the older blues was Led Zeppelin and Jimmy Page. Then I went back and ended up with Son House and Blind Willie Johnson and Charley Patton and all of that stuff. There's so much good music from back then. And the further you dig with that music, the more you find. It's just incredible.
TK: Yeah. Yeah. And you want to make it your own. That's the key, to be able to take all of those ingredients, put them into a soup and kind of make your own soup. And that's the importance of having lots of influences, I think. To make your soup more unique.
RHRM: So, I understand that you are recording bonus tracks for a reissue of The Way Life Goes that is going to be released soon. It's been three years since that album came out. Can your fans look forward to an entire new studio album at any time in the near future?
TK: Well, the process for that started, the process starts, with writing. And there's songs that are, I call them seeds, are being collected of song ideas, lyric and melody kind of thoughts, and they're starting to develop into songs. We hope to be in the studio next year recording a full follow-up solo record. But the deluxe set came about as a result of… There's so many things since we've been on the road with this band that we've talked about doing and, first and foremost, recording the band because it's got such an amazing chemistry on- and offstage. We've been wanting to do a documentary on the band and we've had Tammy Vega, who's an amazing photographer and videographer who we call the eighth member of the band now, who's been traveling with us. And, you know, the idea for the deluxe set was inspired by a piece of art that was given to me as a gift by my tour manager. It was a collage of illustrations done by David Calcano, who's a well-known artist. He's done stuff for Rush and for Mr. Big and created Fantoons. But the collage that I was given as a gift, which is sitting on my piano at home, was illustrations or caricatures of the members of the touring band I've been out with, illustrations that depicted the lyrics and songs of the record and some life situations. And I remember opening it, sitting on the bus last year. I looked at it and I thought, "Wow. This is kind of the way life's gone", no pun intended, "the last few years." And it reminded me of how fortunate I've been to have this band come into my life with a chemistry so amazing. And Tammy, the videographer and photographer, was actually sitting right with me. She's another person we feel very fortunate who'd come into our life as a result of the release of this record. And now this artist, David. I'm looking at the thing and I'm saying, "This looks like an album cover. It looks like an album cover that if the record had been released today, this is what it would look like." Because these are all the people who have been involved in building this thing. So, the wheels started turning and it was, like, you know, if we did a deluxe set to commemorate the last few years together with the band, now we can include a documentary that Tammy's gonna do, we can finally record the band, there's a couple of songs we've been wanting to record, we can bring David in to redesign the whole package and he's done a twenty-page book of artwork that's just insanely cool. It's nothing like the original release. Real collector kind of stuff. And so the wheels started turning and that's what we did. We hired an amazing producer and we went into the studio a couple of weeks ago in Nashville and cut these songs and cut the band, working with Vance Powell, who's worked with some really amazing artists. The first time we recorded this band, I wanted to do it right. So we really vetted some producers and brought in a really amazing guy. The tracks came out great and that's gonna be really what the package is about, kind of pooling all of the talented people and incredible people who have come together as a result of the release of this record. Record the songs, bring the band into it, bring this artist into it, bring Tammy into it. And that's what the deluxe set's all about.
RHRM: Excuse me for my ignorance, but are there any members of the touring band that played on the album or is it a completely different band?
TK: Completely different. Yeah. The record was recorded over a ten-year period and we used session musicians in Nashville. And then when it was time to release it, I had to put together a band to tour it. And I had to find a band that could not only convincingly play the new material, but the Cinderella stuff, too. 'Cause I wanted to play that, too. It's part of my history. And the fans are gonna want to hear it. And the amazing thing about this band is, you know, I was kind of freaked out thinking that I was gonna have to audition for months finding not only the right musicians, but the right people that you want to be on a bus with. Because that's important, too. And the same people you saw in Florida are the very first people who walked into the first audition. So we call it the band that was meant to be. And we have… The chemistry onstage and offstage is really great. It's rare when you get off tour and you're all calling each other saying, "Let's go to dinner." So, ha ha ha, that's the kind of chemistry we have. Lot of love here.
RHRM: The deluxe version will include bonus tracks and a DVD featuring a new documentary. Will there be videos on there, too? What else can we expect in the package?
TK: Yeah. On the DVD will be a pretty full-length documentary. Tammy has a lot of stuff from the road with us. But she was also in the studio with us when we were cutting the tracks with Vance a couple of weeks ago…and the band. She had cameras sittin' all over the studio, I mean, we're talkin' literally in the vocal booth with me when I'm doing takes, on the floor with the band, a really inside look at the creation of those tracks. You know, we're not holding anything back. So, that's a big part of it. Plus interviews, stuff from the road that she's been collecting the last couple of years she's been out with us. So that, in and of itself, is gonna be a very cool piece. Plus the bonus tracks that came out amazing. And the artwork. I can't even describe this artwork. It's really cool. I'm very excited about it.
RHRM: Cool. It sounds like a nice bridge between what you did with that album and what's coming next.
TK: Yeah. It's not gonna be your average deluxe set. I know a lot of times that's just, you know, here's the record again with a couple of tracks that didn't make the record the first time around. Ha ha. That's not the case with this one. There's really gonna be a lot of cool stuff. On the DVD with the documentary, we're also gonna include all the music videos that we've made the last couple of years. And also some little short films that Tammy's created from some special gigs throughout the last couple of years that we're gonna include in there, too. So, lots of cool stuff.
---
To read the rest of this feature, please order a copy of Red Hot Rock #74 at our online shop.
---